On Day One, 3,200 get first shot of Covishield in state
Minister Banna Gupta seeks centre nod for vaccination centres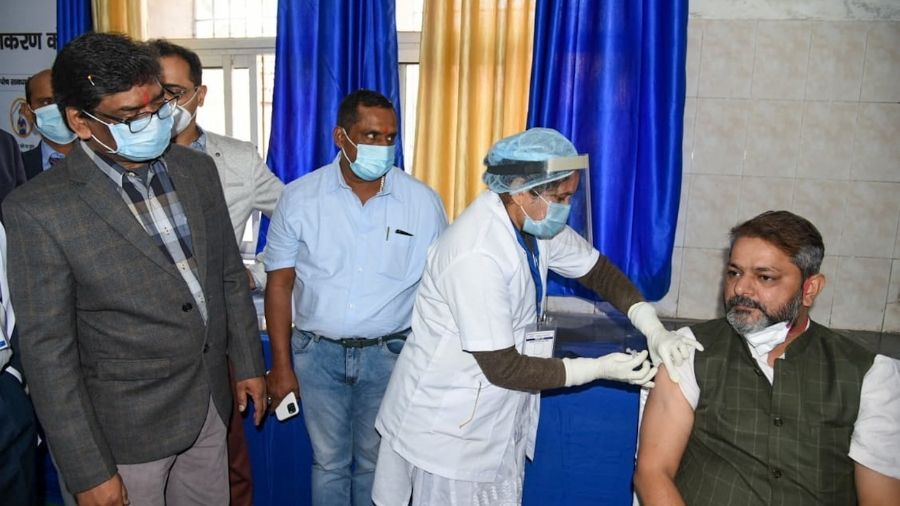 ---
|
Ranchi
|
Published 16.01.21, 08:42 PM
---
Around 3,200 of the 4,800 health and sanitation workers registered for Covishield shots on Day 1 of the vaccination programme in Jharkhand turned up at various centres across the state on Saturday and were administered 0.5ml injections – the first of the two shots required for developing optimal levels of antibodies against the coronavirus over a period of 42 days.
"More than 3,200 were administered vaccine shots in Jharkhand today (Saturday). All the ICMR (Indian Council of Medical Research) guidelines were strictly followed at all vaccination centres," state health minister Banna Gupta said during a meeting over video conferencing with officials from the Union Ministry of Health and Family Welfare soon after vaccination for Day 1 concluded.
A senior official from the National Health Mission (NHM) said the response to the vaccination programme was positive in Jharkhand despite rumours over social media over possible side effects. Chief Minister Hemant Soren inaugurated the vaccination programme at Sadar Hospital in Ranchi and hoped that the vaccine proves to be a boon for the people of the country.
"I personally saw the first shot being administered to a sanitation worker here. It is important to keep the beneficiary under observation for at least 30 minutes after the vaccine shot is administered," said Hemant, adding that all necessary arrangements were made at vaccination centres of the state for safe immunization.
The vaccination programme began at around 11.30 am, but shots will be administered at the various centres 10am onwards from Sunday, health officials said. The vaccine shots, officials said, will be administered from 10am to 5pm at all the centres.
Mariam Guriya of Sadar Hospital in Ranchi was the first sanitation worker to get the Covishield shot in the city on Saturday. The second shot was administered to Dr Vijay Mishra, a senior doctor working at Bhagwan Mahavir Medica Superspecialty Hospital in Ranchi.
Dr Mishra said that he was not feeling any immediate side effects of the vaccination and encouraged people to take the shots without any sense of apprehension. "I was under observation for about 30 minutes after the shot, and my blood pressure, pulse and heart rate were monitored. The vaccine is safe and people must not reject it as all rumours have been put to rest," said the doctor, who treated State Education Minister Jagarnath Mahto at Medica Hospital before he was sent to Chennai.
The vaccination programme was run at 48 centres across Jharkhand on the day, and about 100 beneficiaries were registered to get the shots at each centre, the government had stated earlier. However, the list of beneficiaries at Sadar Hospital in Ranchi carried only 72 names on Saturday.
Health Minister Gupta also requested the Ministry of Health and Family Welfare to grant permission to the state for setting up 139 vaccination booths across Jharkhand. He urged the ministry officials to include journalists and frontline workers in the list of beneficiaries for the vaccination programme.