Officials clear air on Jharia rehab survey
Demographic survey was not aimed at vacating people from Jharia, but taking stock of the socio-economic status of those living in the fire-affected areas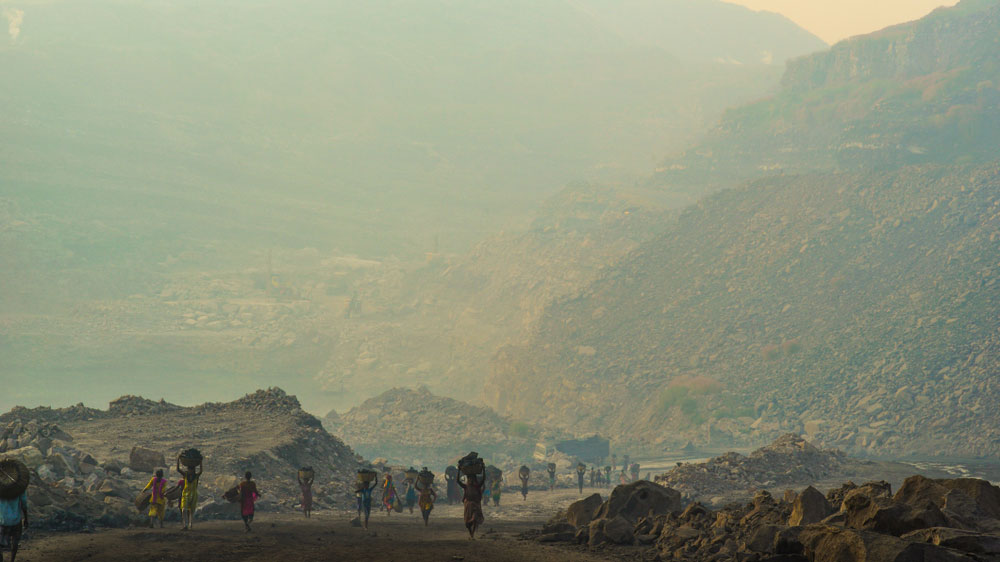 People carrying baskets of coal on their heads at a burning coal mine in Jharia, Dhanbad.
(Shutterstock)
---
Dhanbad
|
Published 01.11.18, 06:27 PM
|
---
Amid reports of protest against the demographic survey for accelerating rehabilitation work in Jharia, a team of senior district administrative officials held talks with the residents of the underground fire-hit areas on Thursday.
The two-member team, comprising SDO Raj Maheshwaram and Jharia circle officer Kedar Nath Singh, held an hour-long meeting with resident groups such as Jharia Coalfield Bachao Samiti and Koylanchal Nagrik Samiti besides other stakeholders like Jharia Chamber of Commerce and descendants of the Jharia princely estate.
In the meeting, it was clarified that the demographic survey was not aimed at vacating people from Jharia, but taking stock of the socio-economic status of those living in the fire-affected areas.
Data of around 91,271 families living in fire-affected Jharia coalfield region have been generated after a survey by agencies such as Central Institute of Mining and Fuel Research, IIT(ISM) and Whiz Mantra Educational Solutions between 2006 and 2018.
Those data are being verified since the last month.
The latest survey also includes areas that were not covered by the previous one.
Over 1 lakh residents of Jharia, however, are apprehensive that the survey will accelerate displacement and the town will be vacated soon.
Local residents even prevented the surveyors from carrying out their work two days ago, prompting the team from private NGO Jeevandeep Trust to return from Sabzi Bazar.
Sixteen teams of 8-10 surveyors each are conducting the survey in all 595 fire-hit sites in association with three private agencies. Work has been completed in around 350 sites so far.
Talking to The Telegraph on Thursday, president of Jharia Chamber of Commerce Amit Sahu said, "We pointed out our concern and said the survey was not being adequately publicised in the area. Traders, local residents and old-timers are afraid of being displaced from the town."
Madhavi Singh, a member of erstwhile princely estate of Jharia said the officials clarified that the survey was not meant to evict people.
"There is no need to fear about eviction drive after the survey," Jharia circle officer Kedar Nath Singh assured.
Maheshwaram said some expressed apprehension that the survey would exclude some residents, who in turn, would be deprived of the rehabilitation benefits. "We clarified that the survey will be all-inclusive. Some residents' groups wanted to be present during the survey and we agreed," the SDO said.