New Year fun, but responsibly
Drink & drive? Then walk home, say cops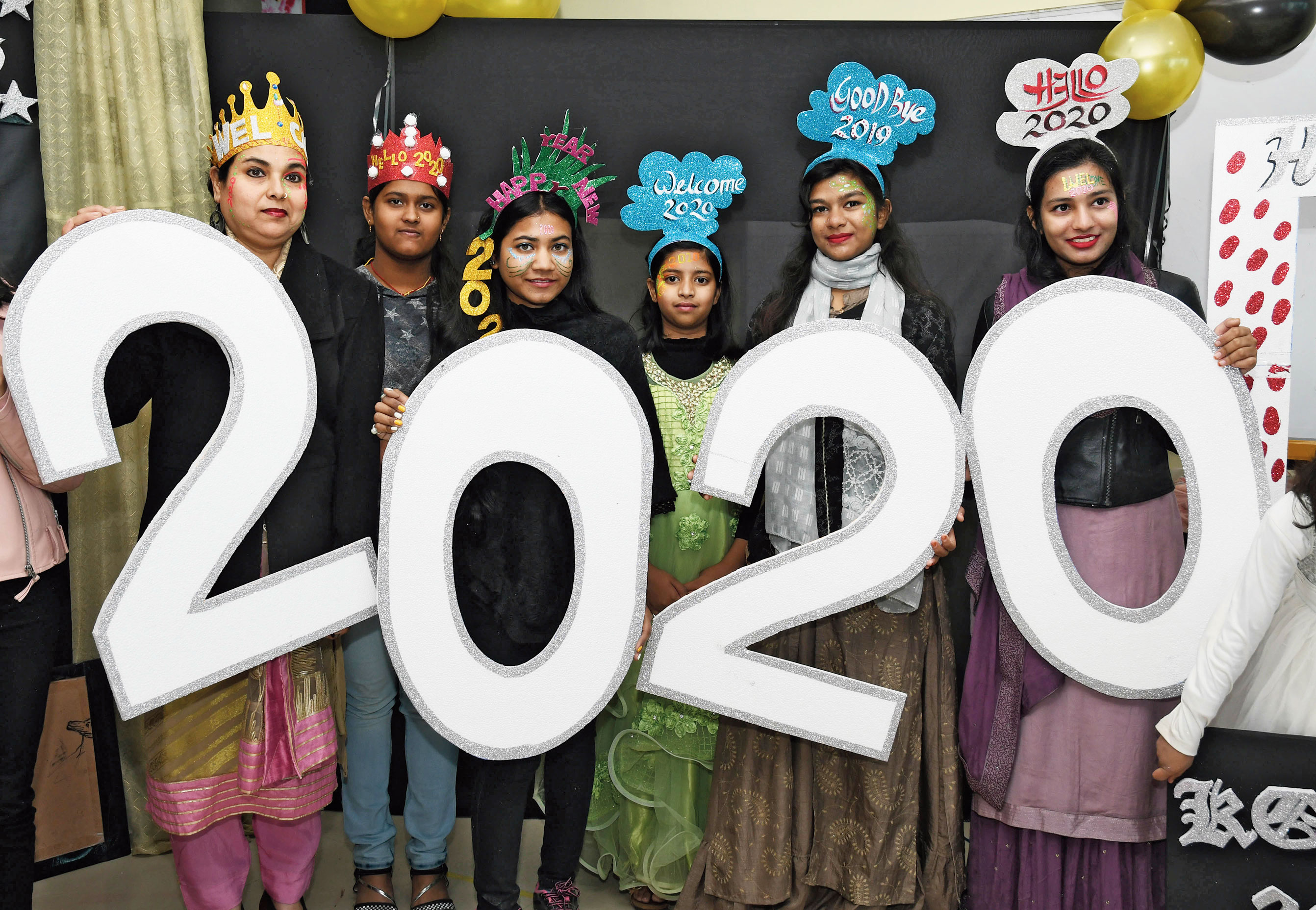 I-FA International School of Art and Design students welcome New Year 2020 on their campus in Ranchi.
(Pictures by Gautam Dey, Manob Chowdhary, Prashant Mitra, Shabbir Hussain and Bhola Prasad)
---
Ranchi
|
Published 31.12.19, 06:57 PM
|
---
Hic, hic, no hurrah. Those caught driving in a drunken state on the first day of 2020 will be asked to go home walking, leaving behind their vehicles with the police.
A Ranchi police officer told this to The Telegraph on Tuesday, adding that as many as 500 police personnel under the supervision of 60 police officers and 23 magistrates have been deputed for the job at different picnic spots in both rural and urban areas of the capital district. "Police personnel, apart from keeping tabs on drunken driving, will also keep vigil on gropers and the management of overall law and order at picnic spots," a police official said.
An officer at Bundu police station said many other security measures had also been taken. "Police personnel and divers have been deputed at waterfalls including Hundru, Jonha, Dassam and Sita. As all these places comes under Bundu subdivision of the district, magistrates deputed at these falls have been asked to send reports every two hours to the Bundu SDO," the official said. An official at deputy commissioner's office said deputy commissioner Rai Mahimapat Ray had asked the civil surgeon to make proper arrangements for ambulances, and fire officials to keep fire tenders handy.
"Fire tenders will be kept at police stations under which picnic spots fall. The police stations include Angara (Johna falls), Ormanjhi (Bhagwan Birsa Munda Biological Park), Dassam (Dassam falls), Pithoria (Pithoria valley), Ratu (Fun Castle), Dhurwa (Dhurwa Dam), Gonda (Rock Garden and Sidhu Kanhu Park) and Sikidiri (Sikidiri Dam). Four ambulances will be kept with lifesaving drugs and other necessary equipment at the city control room," the official said.
Ranchi rural SP Rishav Kumar Jha confirmed the preparedness. "Security checks will start from Tuesday night. A meeting with guards of the forest department and paryatak mitras of the tourism department has taken place wherein they have been directed to remain alert as people go deep inside forests for picnics and try out all sorts of adventures near waterfalls that are just not safe," Jha said. He added that special precautions were in place at places with a history of accidents. "Policewomen in plainclothes will keep a vigil on gropers," Jha said.
Considering footfall of tourists goes up considerably at various tourist spots, particularly waterfalls and Patratu Dam near Ranchi on New Year, Jharkhand state tourism has also chipped in.
"The government has provided basic amenities such as toilets, sheds and restrooms near waterfalls Hundru, Jonha and Dassam," said Alok Prasad, deputy general manager of Jharkhand Tourism Development Corporation. He added that stairs and railings were constructed at these places earlier.
Cultural programmes are now being organised regularly at Hundru, Jonha and Dasam falls and Patratu Dam near Ranchi in Ramgarh district and also Chandil (Seraikela-Kharsawan), Netarhat (Latehar) and Massanjor Dam (Dumka), he added.
"Cultural events are being organised every day during this peak season," Prasad said. "The events are being held from noon to 3pm daily at all such places, barring at Netarhat where they are organised in the evenings."