New road dotted with potholes
The project comprises 2 parts, widening of a 4.4km road from Hotel Skylark to Katras More into 4 lanes and widening of a 21.37km stretch between Katras More, Sindri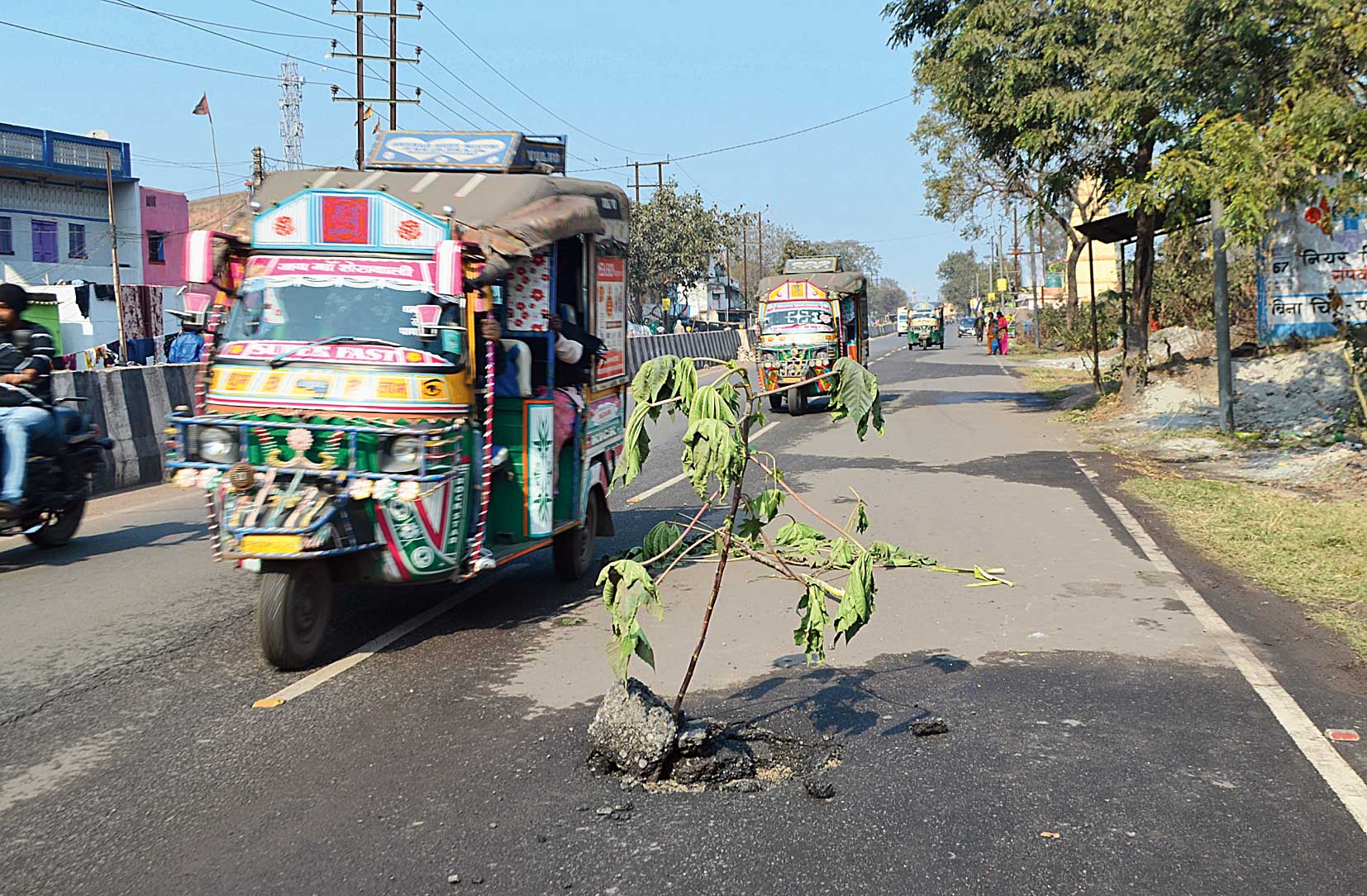 ---
|
Dhanbad
|
Published 06.01.19, 08:05 PM
---
Barely a year after the 25km Bank More-Sindri road was strengthened and widened at a cost of Rs 44.83 crore, potholes have surfaced on several stretches of the artery especially near Bastacola, Bhagatdih and Ena Islampur, increasing the threat of accidents.
Nagendra Kumar, sales manager of a pharmaceutical firm said, "We use the road frequently to visit doctors in Jharia, Patherdih, Sindri and Sudamdih. When it was widened in January 2018, we were happy that travelling on that route would become smooth and safe. But just five months later when the monsoon arrived, the road became riddled with potholes making commuting risky and difficult."
Former councillor of Ward 36 Jharia Rustam Ansari, who owns a house in Bastacola said, "Poor planning and shoddy work by the implementing agency has ruined the road within 12 months. Leaks in Mineral Area Development Authority's pipes are also damaging the road," Ansari added.
The 2015-16 project was executed by the state road construction department, which had in turn hired the services of private firm Balkrishna Bhalotia. Construction was, however, delayed due to shifting of water pipes and electricity poles from the road. It was completed in January 2018.
The project comprises two parts, widening of a 4.4km road from Hotel Skylark to Katras More into four lanes and widening of a 21.37km stretch between Katras More and Sindri.
Executive engineer (road construction department) Dilip Kumar said, "We have an agreement with the contractor for the maintenance of the road. Potholes will be filled soon."