Netarhat Vidyalaya boys on menstrual hygiene mission
We are happy to share that in the first three months, we have touched 50 villages in Jharkhand and Bihar, benefiting 5,000 women: Vikas Ranjan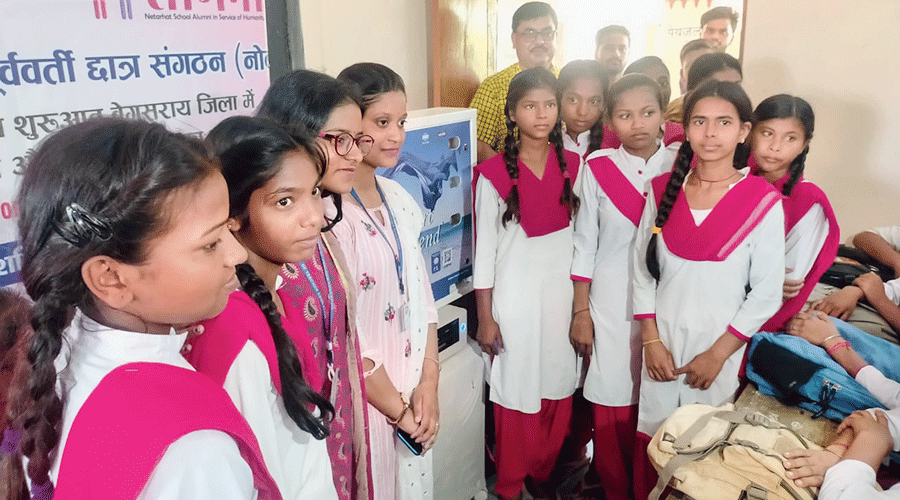 A sanitary pads vending machine and incinerator at the Snehkul Public High School in Ranchi.
Shutterstock
---
Jamshedpur
|
Published 28.05.22, 12:35 AM
|
---
Members of the alumni association of Netarhat Vidyalaya, a residential school in Jharkhand's Latehar district, are on a mission to generate awareness on menstrual hygiene and provide easy and affordable access to sanitary pads and its safe disposal.
Netarhat Old Boys Association's (NOBA) Global Social Responsibility (GSR) project Sangini has covered 50 villages in Jharkhand and Bihar, benefiting 5,000 women, within a span a three months.
The project was rolled out in February 28 this year.
"The tagline of the Sangini project is 'for the women, with the women by the men'. Through this project, we have embarked on a dream to provide sanitary pads at a cost of only Rs 1 to 4.6-crore girls and women in rural areas nearest to their house and also arrange for their safe disposal. We are happy to share that in the first three months, we have touched 50 villages in Jharkhand and Bihar, benefiting 5,000 women. By December 31, we hope to reach 200 villages, benefiting 20,000 women," said Vikas Ranjan, one of the three board directors of the Sangini initiative who works as manager at Accenture in Tokyo.
Ranjan, a 1998 batch passout from Netarhat Vidyalaya, said anybody could nominate a village or a school in Jharkhand-Bihar under the Sangini initiative. "One will have to meet some simple criterions like a small space and a village prabhari (in-charge) who will refill the sanitary pads in the machine once it runs out of stock, take the collected coins from the machine and deposit it in the NOBA bank account and find two-three volunteers who would create awareness about menstrual hygiene. They can nominate the village through our email nobagsr@gmail.com. After verification from our local NOBA prabhari (in-charge who look after 10 villages), we will arrange to install the sanitary pad dispenser and an incinerator free of cost," Ranjan said.
During the time of installation, the vendor would supply 500 sanitary pads along with the machine (the machine can accommodate 100 pads).
"When the machine runs out of stock, the village in-charge would press an SMS trigger to the NOBA in-charge who would then arrange for refilling of the machine through the vendors," he added.
The NOBA GSR has planned to approach private institutions, public sector units through deputy commissioners and government departments and personal acquaintances of NOBA members to generate funds for the project, which roughly amounts to over Rs 90 lakh for 200 villages in the next five years.
"Impressed by the success of our project, Wheels Global Foundation (the social impact arm created by pan IIT alumni leaders) have also joined hands with NOBA GSR, especially to support the Sangini project and scale it to the pan-India level. The understanding was reached on May 19," said Ranjan.
Jawahar Lal, a 1992 batch passout of Netarhat Vidyalaya and the vice-president of Bank of America in New York, expressed happiness with the success of the project.
"We are happy that the project is achieving the desired results of spreading awareness and providing sanitary pads at affordable rates to rural women," said Lal, one of the lead co-founder of NOBA GSR.
"The project was conceptualised after we learnt that 70 per cent of Indian families cannot afford sanitary napkins currently available in the market and 23 per cent of girls in India drop out of school once they hit puberty between the age of 10 and 14 while a significant percentage rely on old rags, plastic, sand and ash to address their hygiene requirements," said Lal.
Netarhat Vidyalaya, spread over 780 acres in the sylvan surroundings of the Netarhat hill, was established by the then Bihar government in 1954 as a centre of excellence. The students, chosen through a selection process, have excelled in various fields across the globe since then.
School principal Santosh Kumar Singh praised the initiative of its alumni.