Aspiring medical students were happy with the NEET exam held on Sunday.
Students were also glad that they were allowed to write their exams without masks and gloves.
Disposable gloves, sanitizers, temperature check-up machines, jammers, and contactless frisking were arranged for students before they entered the centre. One student was made to sit per bench, with a two metre gap from another. NEET examinees being frisked and checked before they are let inside the NEET centre exam in Bistupur on Sunday. Bhola Prasad
The three-hour exam that began at 2 pm. Students felt the physics paper was a little more difficult than the rest, with Biology being the easiest to crack.
Students felt that though the pandemic made it difficult and the exam got delayed so much, not-so-hard question paper provided some relief.
A total of 720 marks is equally divided across three subjects - physics, chemistry and biology. About 3119 students appeared across four centres - DAV Public School, Bistupur; Jamshedpur Public School in Baridih; Vidya Bharati Chinmaya Vidyalaya in Telco and NSIBM campus in Pokhari near NH-33.
"We were scanned before we entered, and given gloves and masks. But thankfully the authorities allowed us to write without masks and gloves. Or else it would have been really difficult in this humidity. After so much speculation, we were happy to finally appear for the exam and happier to see an easy paper," said Smriti Keetan, a student who wrote the exam at Vidya Bharati Chinmaya Vidyalaya.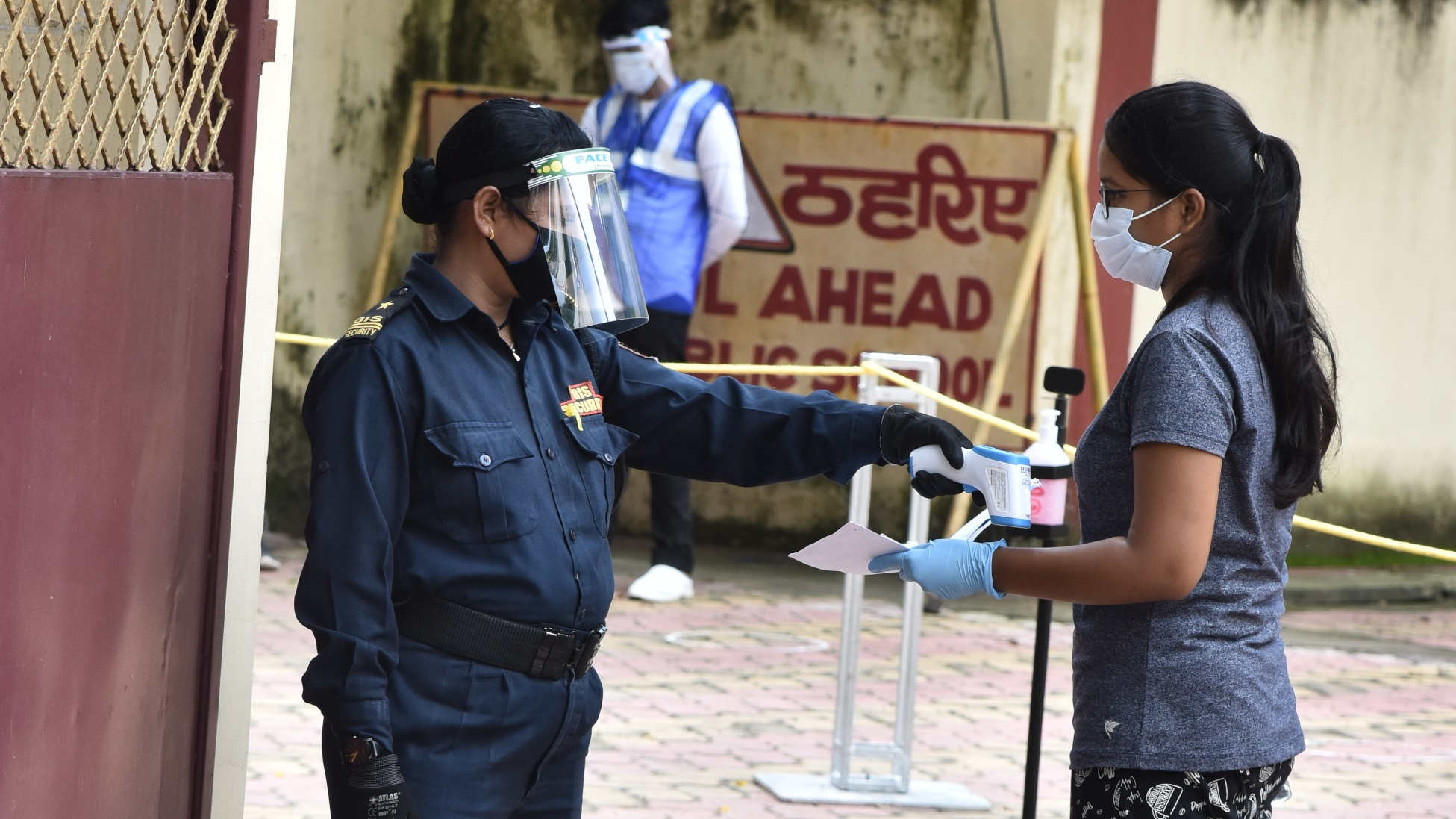 NEET examinees being frisked and checked before they are let inside the NEET centre exam in Bistupur on Sunday. Bhola Prasad
Another student, Hansraj Gupta, said, "I felt physics was difficult but the rest of the paper was easy. I think the students were happier because they could answer the exam. Though a section of students were unhappy and had protested, how long can we stay indoors?"