NDRF team fishes out Adityapur boy's body from river
Teenager had drowned while bathing in the Kharkai; social activist instrumental in getting disaster response force involved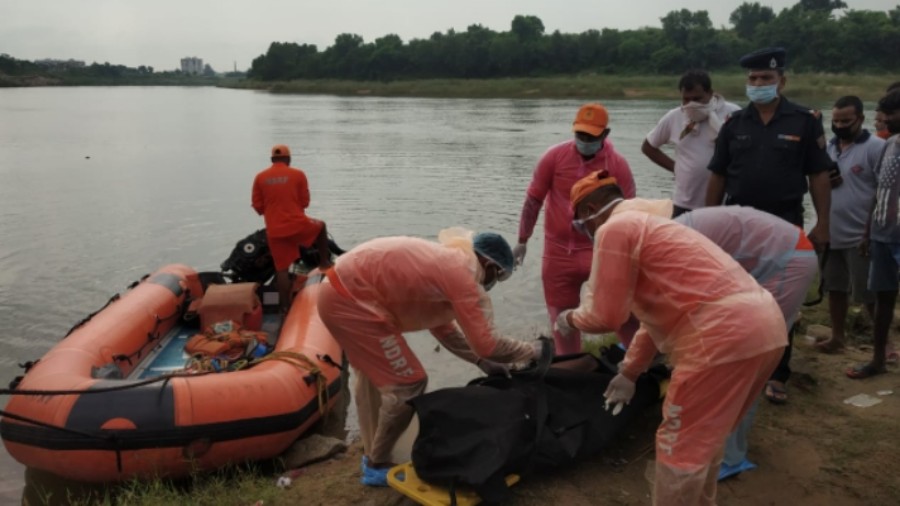 ---
---
A 14-member team of the National Disaster Response Force (NDRF) fished out the body of a 17-year-old boy from the Kharkai river along the RIT police station area in Adityapur on Saturday.
The NDRF team was pressed into service after local divers failed to locate the body of the boy, identified as Aditya Kumar Mahto, who drowned in the Kharkai river while bathing near Platinum City in Adityapur on Friday afternoon.
Family members and neighbours of the boy said there is an acute water crisis in Adityapur, which prompted Aditya, like many other local residents, to go to the river for a bath.
He went to the river around 12.30pm on Friday. While taking a bath, he slipped into deep water and drowned.
Others at the scene had come to the victim's rescue and even dived into the river, but could not save him.
Later in the afternoon, police and family members of the boy asked some local divers to find the body, but they failed.
A local social worker, Sudhir Chowdhury, arranged to get the NDRF involved following reports of the incident.
Chowdhury met the Seraikela-Kharsawan deputy commissioner, Iqwal Alam, and requested him to write to the secretary of the Jharkhand department of disaster management. After Alam had written the letter, Chowdhury spoke to Amitabh Kaushal, the secretary of the department. Kaushal then communicated with officials at the NDRF headquarters in New Delhi to get a nod. The NDRF authorities then instructed the team stationed at Ranchi to rush to Adityapur. A 14-member team from Ranchi came to Adityapur early on Saturday morning and started work from around 8am.
The NDRF team traced and recovered the body within 30 minutes of starting its operation. The body was found within 20m from the spot where the boy drowned.
One of the team members said the body was trapped in a rock about 15ft deep in the water.
The officer in charge of RIT police station, Srinivash Kumar, confirmed the events: "The boy, who was a resident of Janata Row House area near NIT, Jamshedpur, drowned while taking a bath in the river on Friday afternoon. We had pressed some local divers into service, but the body could not be found. It was ultimately fished out of the river by an NDRF team," Srinivash told The Telegraph Online.
Son of Bajrang Mahto, an auto-rickshaw driver, Aditya had passed his matric examination this year and was about to take admission in a Plus Two course soon.
A pall of gloom descended in the Janata Row House area after the NDRF team found the body.