National Green Tribunal fines pollution board official
NGT imposes a personal cost of Rs 25,000 on member secretary JSPCB for failing to file action taken report on the order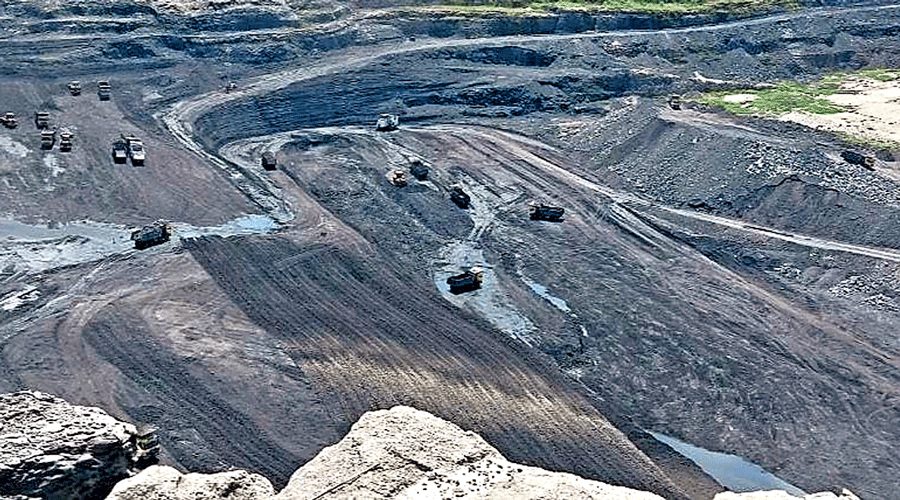 The Amrapali Open Cast mine site in Chatra.
Bhola Prasad
---
Jamshedpur
|
Published 22.07.22, 03:24 AM
|
---
The National Green Tribunal has imposed a personal cost of Rs 25,000 on member secretary Jharkhand State Pollution Control Board for failing to file action taken report on the tribunal order pertaining to environmental compliance by the Central Coalfields Limited open cast mine at Jharkhand.
The eastern zone bench of Justice B. Amit Sthalekar and Saibal Dasgupta (expert member) issued its order on Wednesday while hearing an appeal by Ranchi-based Sanjay Chauhan against environmental clearance granted by the Union ministry of environment, forest and climate change to Central Coalfields Limited (a subsidiary of Coal India Limited) on March 2020 for the expansion of the Amrapali Opencast coal mine in Jharkhand's Chatra district  from 12 MTPA to 14.4 MTPA.
The appellant had claimed that the expansion of the open cast mines in an area of 619.87 hectare, including 531.64 hectare of forestland and had said that people would be affected due to environmental non-compliances during mining activities.
"It is not necessary that each time the court should grant time to file an affidavit. When an action taken report has been called or when an action has been demanded by the member secretary himself, it was his duty to have filed a fresh affidavit to show his bona fide with regard to the action taken by him in response to notice dated May 2, 2022. We therefore impose a personal cost of Rs 25,000 upon the member secretary JSPCB (Y. K. Das)," the NGT order states adding that "two months have been wasted".
"We further direct the chief secretary, Jharkhand (Sukhdev Singh) to take appropriate action against the member secretary JSPCB. The copy of this order shall be placed before the chief secretary Jharkhand," the order adds while granting one-week time to legal counsel of JSPCB to file an affidavit and bring on record the action taken report.
JSPCB in its affidavit on March 21, 2022 before the tribunal had stated that observations of the regional office of ministry of environment, forest and climate change, which were to be complied with within one year, are still not fully complied by the CCL.
The JSPCB in its affidavit on May 7, 2022 had said that a fresh notice was issued to the Amrapali Project Proponent on May 2, 2022 for compliance of conditions.
The tribunal also granted four-week time to CCL legal counsel Anoop Kumar Mehta to file a counter affidavit to the affidavit filed by the JSPCB.
The bench listed the next hearing of the appeal on August 29.