Modi on lips, a spring in his steps
I am a mere foot soldier of the BJP… I represent the aspirations of Prime Minister Narendra Modi, says Sanjay Seth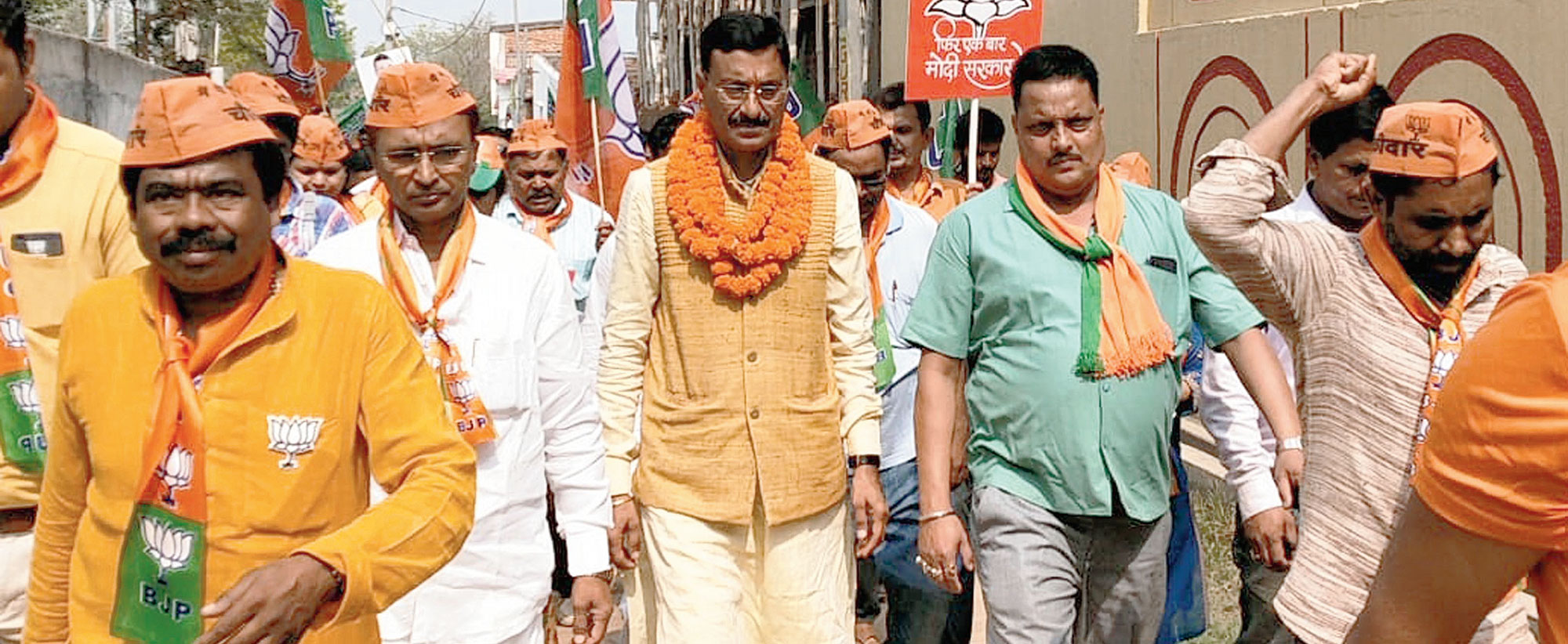 ---
Ranchi
|
Published 18.04.19, 06:40 PM
|
---
 Sanjay Seth is an early riser and hence loves to set out for campaigning at 6.30am.
Thursday was no different for the BJP candidate for the prestigious Ranchi parliamentary seat, who walked and met people of as many as 700 households in Pandra, the locality where he lives, from early morning.
"I am a mere foot soldier of the BJP… I represent the aspirations of Prime Minister Narendra Modi. I have come across economically deprived people who were benefited by a number of social welfare schemes launched by the Modi government. They want Modi as Prime Minister once again because they believe only Modi can change their lives," he said.
With 200 party workers in tow, Seth visited Shahdeo Nagar, New Shahdeo Nagar, Vikas Nagar, Lakshmi Nagar, Janki Nagar, Ojha Market and Tel Mill Gali locality, all within Pandra that is infamous for the acute water crisis it faces every summer.
"He is a local face and he is very familiar with local residents. Besides, he is easily accessible and proactive. So, he will be our first choice. Every summer we face a water crisis and we have asked him to look for a permanent solution," said Barun Kumar Mishra, a local resident.
To Mishra and the others who highlighted the issue, Seth said he was already working on a plan for a permanent solution based on a water harvesting system to recharge the ground water.
But then he switched to Modi and the achievements of BJP governments at the Centre and state.
"The state government has in the last four and half years done a lot of development across Jharkhand, including a drinking water supply line for Ranchi. NH-33 is being widened which will end traffic congestion," said the former Khadi board chairman.
Morning campaign, he said, suited him best. "Morning hours fulfil twin purposes. I get to campaign and also go on my morning walk although some BJP workers who accompany me may be facing problems because they work late nights. These these party workers are my strength," he said.
Sanja Mohri, a small time trader who runs a shop at Pandra Bazaar Samiti, requested him to renovate the wholesale market area.
"Around 5,000 people get direct and indirect employment from Pandra Bazaar Samiti which is Jharkhand's biggest wholesale grain market. But the conditions here are pitiable… far from the model trading centre it should have been," Mohri said, pointing to the poor condition of the approach road.
"It is affecting our business and local residents also face problems. A flyover at Piska More has been proposed but we don't know when work will start. We requested him to take up the matter on priority," he added.
Seth wound up his morning campaign around 10.30am. After a rest of about 30 minutes, he moved to Ormanjhi, considered a stronghold of BJP sitting MP Ramtahal Choudhary who is contesting as an Independent after being denied a party ticket.