Marandi vows more jobs
Marandi in his speech focused on deteriorating law and order, health, education and industries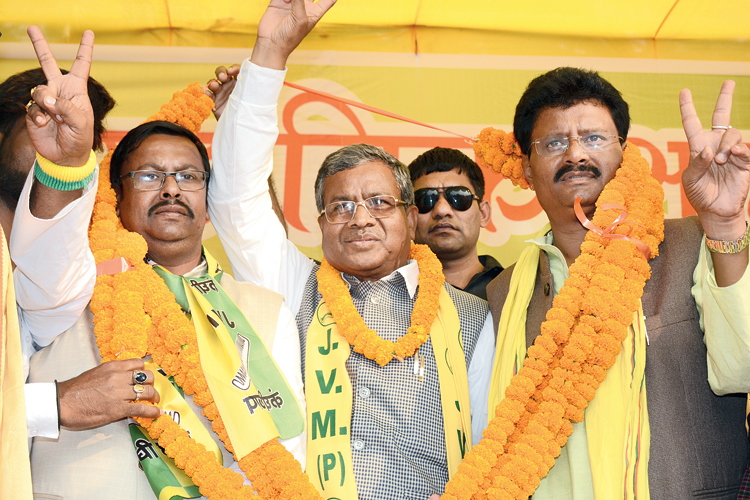 JVM chief Babulal Marandi in Mango, Jamshedpur, on Friday
(Bhola Prasad)
---
Jamshedpur
|
Published 30.11.19, 07:35 AM
|
---
JVM chief and the state's first chief minister Babulal Marandi tried to woo voters with the assurance that he would rid the state of lawlessness and unemployment and promised to recruit teachers and doctors to improve education and health sectors in Jharkhand.
Addressing a gathering of nearly 1,000 people in support of the party's Jamshedpur West candidate, Pankaj Kumar, and Jamshedpur East candidate Abhay Singh at Gandhi Maidan in Mango, Marandi in his 14-minute speech focused on deteriorating law and order, health, education and industries in the past few years. Marandi had come from Bandgaon in West Singhbhum.
"Women are not safe even in the capital city (hinting at the gang-rape near Ring Road in Ranchi on Wednesday). There are incidents of murder, theft, dacoity and rape almost daily. There is goonda gardi everywhere and people are living in fear. I have come here to appeal to all of you to cast your votes in favour of our party candidates because soon after coming to power we shall end lawlessness in the state," said the former BJP Union minister.
Taking digs at chief minister Raghubar Das on his trips abroad to attract investors during Momentum Jharkhand, 2017, Marandi said: "It is unfortunate that we have seen youths commit suicide because of lack of jobs, industries being shut down and poverty is such that people are dying of hunger and surprisingly our CM had visited so many countries, spent crores to attract investors during Momentum Jharkhand, claimed to fly elephants but nothing happened."
Marandi promised that soon after forming the government, the JVM would initiate measures for hassle-free ration cards to beneficiaries.
"We would initiate policies for hassle-free ration cards for beneficiaries and they would not have to make rounds of government offices. We would ensure nobody dies of starvation in our government," Marandi said.