Maoist kin's 'achchhe din' hope
Son absconding, father shows inked finger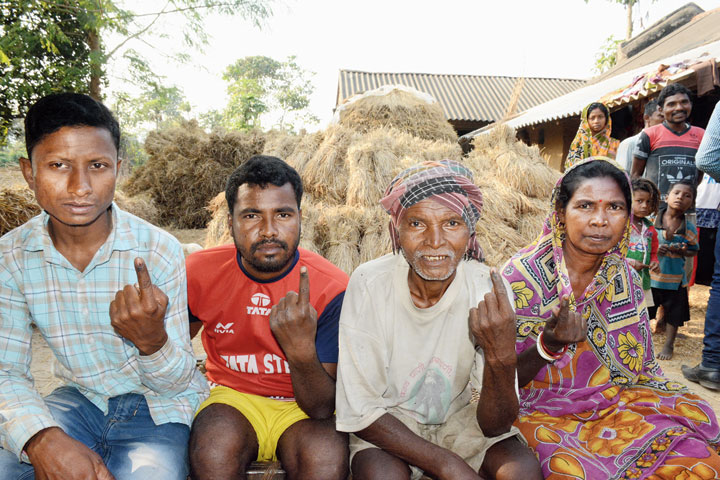 Maoist Ram Prasad Mardi's family at Jhunjka in Patamda on Saturday.
Picture by Bhola Prasad
---
Published 07.12.19, 06:43 PM
|
---
Hope of achchhe din is what drove the family of Maoist area commander Ram Prasad Mardi a.k.a. Sachin, who carries a reward of Rs 15 lakh, to go to a polling booth and vote in Jugsalai Assembly constituency on Saturday.
Seated in their rickety thatched hut in village Jhunjka, badly damaged after the 2016 police kurki jabti (attachment) to search for Sachin, a suspect in the March 2007 murder of then Jamshedpur MP Sunil Mahato in Ghatshila, Sachin's father Sanatan Mardi, 60, humbly showed his inked finger.
"Ami vote diyechi ar dite thakbo…. (I cast my vote, I will continue to vote)…. Achchhe din asbe (good days will come)," Sanatan says, sitting on a cot in the village, nearly 40km north of Jamshedpur.
Sanatan apart, his wife Pansari, 53, children Chotelal, 25, and Phulmoni, 30, all cast their vote at the polling booth in the upgraded primary school at Jhunjka.
A farmer who grows paddy, tomato and cucumber on two bighas of ancestral land, Sanatan has turned frail from age and the blows of fate. "I have not seen my son since that fateful day in 2007 (when the MP was murdered). But, the police do not believe us. I have lost count of the number of times the police have visited us and threatened us to force Sachin to surrender. We keep pleading we have no contact with Sachin since 2007, but they do not listen. They even took away our household goods and damaged the house in 2016 (while attaching the property).
The elderly resident however feels one has to vote.
"I do not know about Maoist calls for vote boycott. I only know I will continue to vote with the hope that someday a good leader solves our village problems and gives us good roads, water for our fields, electricity…" said Sanatan.
Most of the five tube wells installed in Jhunjka don't work now, the kutcha undulating road is tough to negotiate and power supply is mostly off during the day when farmers need to switch on pumps to water their fields.
Chotelal recalled that he was a small boy and Sachin was in Class IX when "he left home". "Maoists took my brother on their bike, saying they were going to Ghatshila to buy fruits. A day later (after the MP's murder), we came to know my brother was present during the MP's murder," Chotelal said. "I only remember my brother was a good footballer."