Maithon Dam set for a makeover
Keeping the New Year in mind, such a step has been taken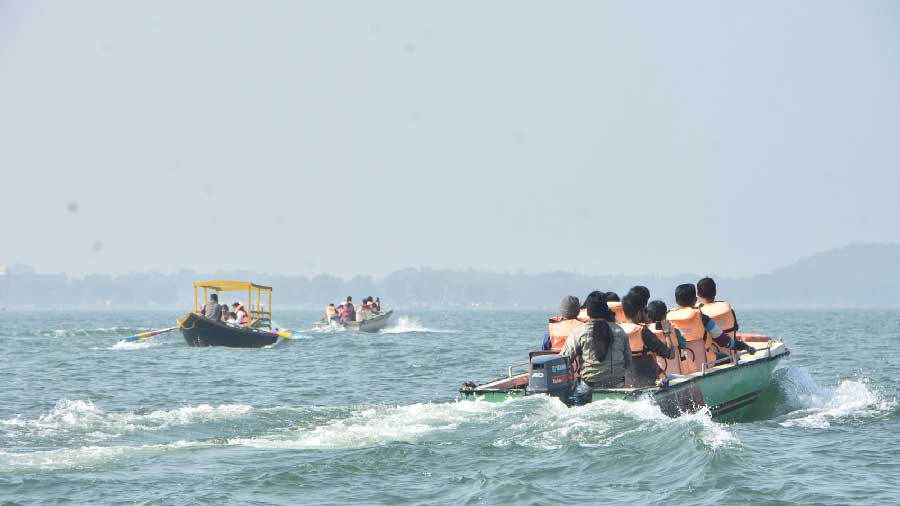 The scenic beauty around the Maithon dam
Gautam Dey
---
Dhanbad
|
Published 14.12.21, 06:37 PM
|
---
The picturesque Maithon dam situated on the bank of river Barakar in Nirsa block of Dhanbad, considered one of the most popular picnic spots of the east has geared up to welcome the new year revelers and picnickers. 
This comes in the wake of fresh sets of ornamental plants having been planted and pruning of existing plants and weeding carried out in Shatabdi Park near the dam which is cynosure for visitors. This apart, altogether 70 LED street lights have also been installed across corridors to the dam to ensure proper lighting during the evening.
Intensive cleaning and refurbishment of a dozen toilets and lavatories is in progress and are likely to be completed within a day or two while the sprucing  of guest houses have also been completed.
Talking to The Telegraph Online on Tuesday, Apurba Saha, public relation officer of Damodar Valley Corporation in Maithon, said, "Almost all the preparation for the new year has been completed at the dam and the facilities will be inaugurated within a week."
Divulging more details, Saha said, "We will also be making new arrangement for parking of vehicles near the sporting hostels as due to the parking spot near the lake, congestion takes place which obstructs the movement of ambulances and others," said Saha adding recommendation of CISF authorities for choosing the parking  spots will  be taken.
"We will also be putting up several signboards at different spots across the dam requesting people not to put up garbage," Saha el;aborated. 
Notably, a large number of dustbins have been put up across the length and breadth picnic spots of the dams but many visitors litter away the spots by throwing away the garbage in the open.
Situated about 48 km from Dhanbad district headquarters, the major attractions of Maithon include the15712 feet long and 165 feet high Maithon Dam, besides a deer park and Shatabdi park.
Boating around several islands situated in the lake including Sabuj Deep and Chamoch Deep is an experience. Maa Kalyaneshwari Temple of Maithon situated less than 100 meter away from the dam is other center of attraction.
This apart around 35 species of migratory birds including Grebes; Cormorant; Rail, Crakes, Moorhens, coots; King Fisher, Herons Egrets and Bitterns; Storks; Plower, Lapwings; Swallows; sandpiper, stints, snipe and Curlew; Wagtails & Pipes besides  around 55 species of other birds like Pigeons and Doves;Hoopoe; Crows, Jays, Magpies and Ravens;Barbets; Parrots and allies; Mynas; Owl and Owlet; Sunbirds and spiderhunts present in the lake area are other attractions for the visitors arriving in the lake during the new year.