Love song for a city that's hit a ton
With a length of 4 minutes, 16 seconds, the song dedicated to the beauty and journey of the city has been conceived by Jusco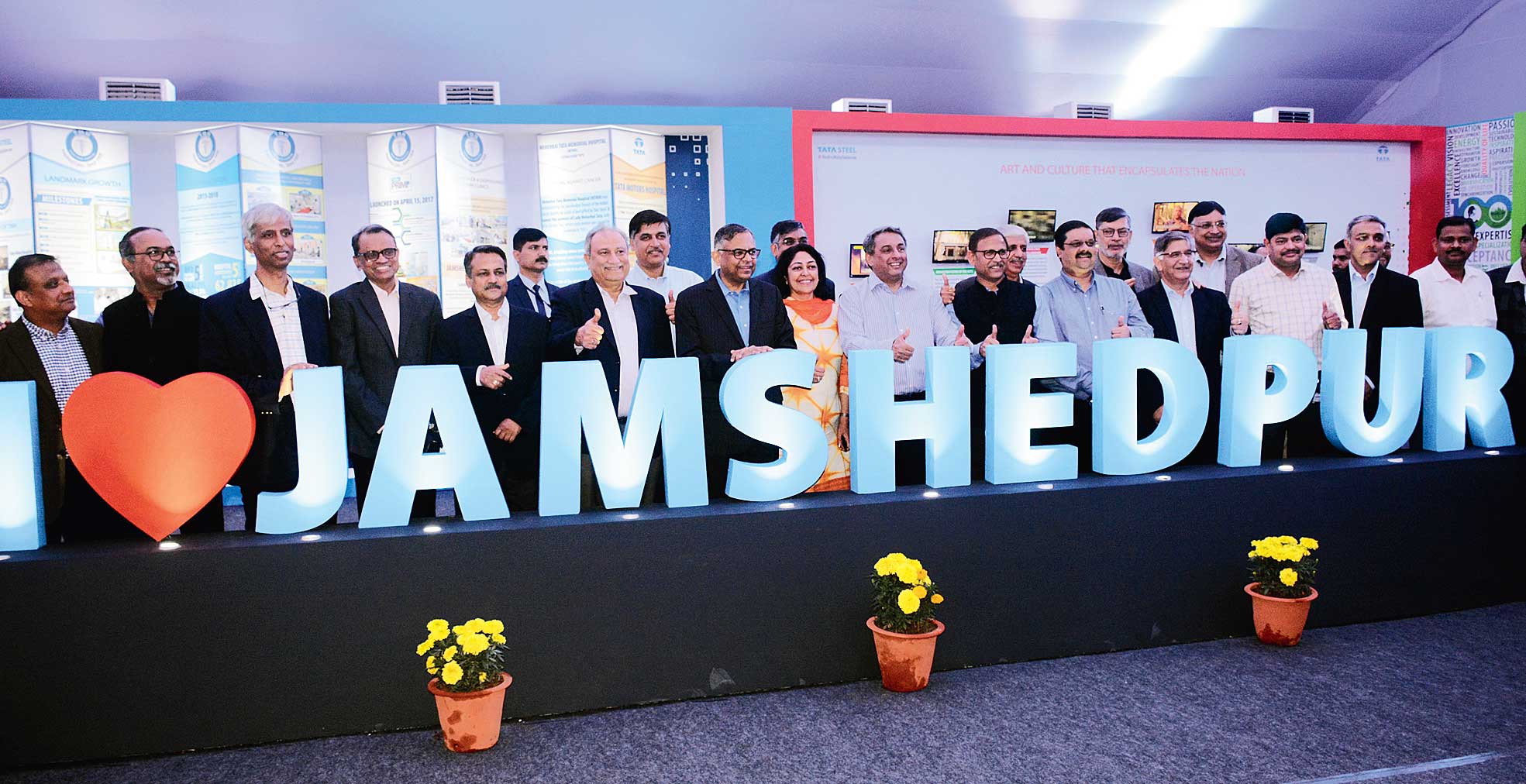 Tata Sons chairman N Chandrasekaran, along with the who's who of Tata Steel, poses with a cut-out that says I Love Jamshedpur after inaugurating a display near Children's Corner at Jubilee Park on Saturday.
(Bhola Prasad)
---
Jamshedpur
|
Published 02.03.19, 06:54 PM
|
---
Jamshedpureans will get their new song on Sunday, the 180th Founder's Day, to mark 100 years of Jamshedpur.
Jamshedpur Hai Mera, sung and composed by city-based Arun Dev Yadav will be made public on Sunday at the pageantry near Bistupur Postal Park as a part of celebrations to mark the birth anniversary of JN Tata, the visionary industrialist who conceived the steel plant and the planned city.
On January 2, 1919, Lord Chelmsford, then Governor-General and Viceroy of India, had announced that the town would no longer be called Sakchi, but be identified with the name of its founder and called Jamshedpur. "It is hard to imagine that 10 years ago, this place was scrub and jungle; and here, we have now this place set up with all its foundries and its workshops and its population of 40,000 to 50,000 people," Lord Chelmsford had said in awe, crediting all to the "prescience and imagination" of JN Tata.
With a length of four minutes, 16 seconds, the song dedicated to the beauty and journey of the city has been conceived by Jusco and recorded at a Mumbai-based studio.
Tata Sons chairman-emeritus Ratan Tata and chairman N. Chandrasekaran will be present when the song, dedicated to founder JN Tata and the city, is performed by city-based dance group Uday Nrityalok.
"Jamshedpur has completed 100 years and that calls for a celebration. The song has came out beautifully, thanks to the singer-composer (Arun Dev Yadav). Arun always wanted to compose something for the city and here was his chance. The idea was conceived by Jusco and Arun executed it," Jusco spokesperson Rajesh Rajan.
Rajan said the song would be uploaded on social media sites on Sunday to reach out to more people. Yadav had won a musical reality show in 2012, Suron Ka Mahasangram beamed on Bhojpuri channel Mahua. A Birsanagar boy and an alumnus of Vidya Bharati Chinmaya Vidyalaya and Jamshedpur Cooperative College, he is now settled in Mumbai.
He also learnt music from Jamshedpur-based music mentor Anjan Das and holds a Sangeet Bivakar from Bangiya Sangeet Parishad, Calcutta. He had also performed at the Jamshedpur Carnival two years ago.
Yadav's lyrics talk about natural beauties, rivers Subernarekha and Kharkai, how a village (Kalimati) transformed into the cosmopolitan city of Jamshedpur and how the Tata group extracted iron and steel out of the then available natural resources.
Speaking to this correspondent from Mumbai, Yadav said, "I am not much of a writer but I love Jamshedpur. The city is my identity. I'm lucky to have had this opportunity to write and compose a song on Jamshedpur. The words and tune flowed naturally. I have tried to pour in as much as love possible."
He added, "Hope people like it and people use it as an anthem."