Literary festival at tribal heartland by Dumka state library
Renowned writers, poets, and scholars scheduled to deliberate on a wide range of issues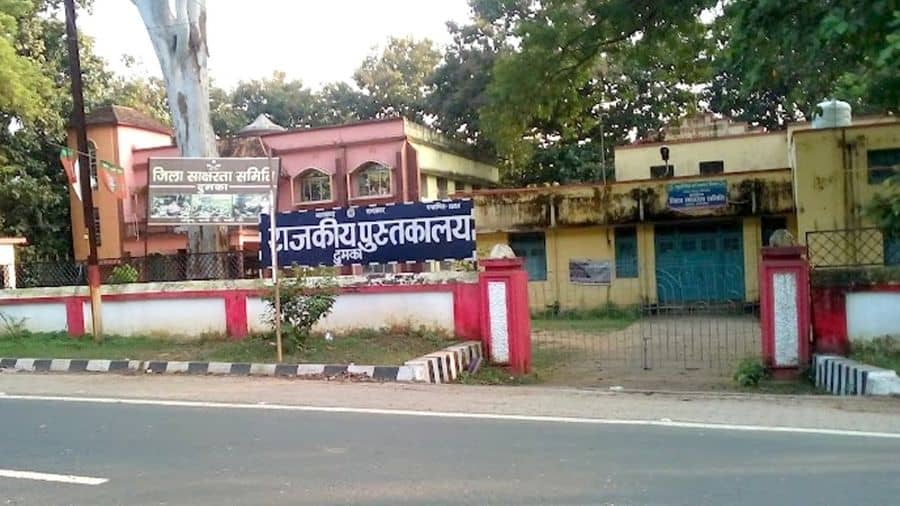 The State Library in Dumka.
Gautam Dey.
---
Dhanbad
|
Published 14.04.22, 07:18 PM
|
---
Spreading the light of education in the tribal zone of Santhal Pargana since 1956, the State Library of Dumka which has recently refurbished its library on wheels (Bookmobile)  has completed all preparations for the upcoming two-day mega literary fest, titled Dumka State Library Literature Festival scheduled on April 16-17. Renowned writers, poets, and scholars are scheduled to deliberate on a wide range of issues like Tribal Literature-Present and Future; Wildlife Crisis in India; wandering writers & literature, and History of Books during the festival.
The festival, divided in altogether 12 sessions, is aimed at celebrating the power of libraries as a medium to give wings to the human imagination will begin on April 16 with the session titled libraries of Life during which the participating authors from across the country will share their experience of libraries in their life and career.
Notably, the vintage Library on Wheels or Bookmobile of Dumka state Library titled Rajkiya Bhramanshil Pustkalay which has been recently refurbished at the initiative of Ravishankar Shukla, Dumka Deputy Commissioner which will be also displayed during the festival will be another major attraction of the festival.
Chandrahas Choudhary, a Mumbai based renowned Indian Novelist, who will also be participating in the festival along with other authors and novelists like Nilotpal Mrinal and Rajat Ubhaykar said, "I am very excited as the festival going to be held in Dumka. The landscape of Indian Literature will expand to include the historic city of Dumka of Santhal Culture."
"Indian Literature is a gigantic circus of voices and some of us will come together this weekend at Dumka for the literary festival of Dumka State Library, the showpiece of which will be the re-inauguration of the recently refurbished library on wheels," said Choudhary, writer of novel Arzee the Dwarf.
Dumka born Sahitya Akademi award winner Author of national repute, Nilotpal Mrinal in his message said, "Though we participate in literary festivals across the country, I am greatly excited about the festival being held in Dumka as it is my hometown and also because of the fact that the theme of festival centers around the Library."
Notably, Library on Wheels or Bookmobile of Dumka built on a US-made Fargo truck which was provided to Dumka State Library in 1958 and has so far traveled more than 76000 kilometers was aimed at providing books in different towns, subdivisions, block-level libraries, and even residential schools of different districts of Santhal Pargana Commissionerate, including Dumka, Deoghar, Jamtara, Godda, Sahibganj, and Pakur.