Latehar man travels 28km to donate blood for critically ill patient
The district is suffering from scarcity of donors during the pandemic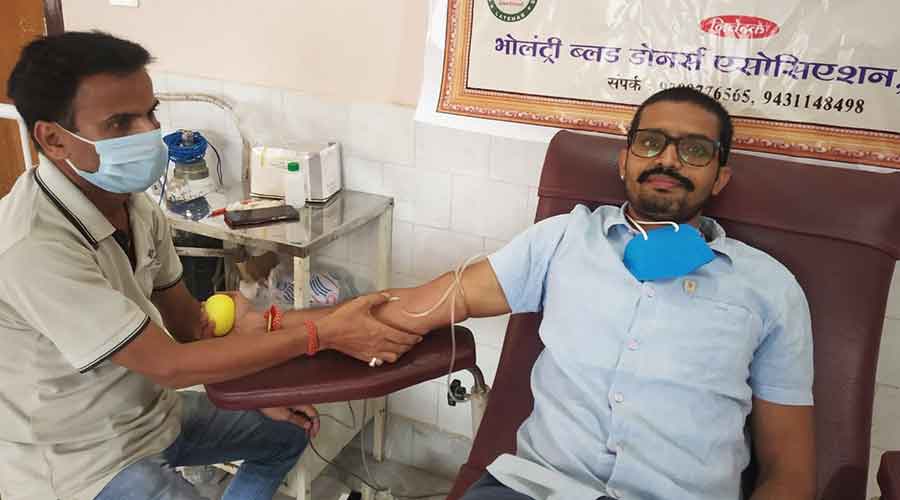 Navin Singh who travelled down 28km from Chandwa to Latehar for blood donation on Saturday in Latehar
The Telegraph picture
---
Daltonganj
|
Published 18.07.21, 09:28 PM
|
---
The scarcity of blood donors has hit Latehar district severely during the coronavirus pandemic. 
A 30-year-old man of Chandwa city travelled 28 km by car on the national highway to reach Latehar on Saturday to donate a unit of blood for a critically ill patient at the Sadar Hospital. 
Navin Singh came, donated blood and returned to Chandwa after meeting the ailing patient Ajay. 
Navin's labour and pain in coming over to Latehar from Chandwa for donating blood has won him all the accolades. 
Deputy commissioner Latehar Abu Imran said "We wish more and more eligible and energetic people should come forward to donate blood. It is a real service to humanity."
Imran said, "I saw a text in a WhatsApp group in this regard and I immediately wrote back to the ailing one in dire need of blood that he well be taken care of and on learning that a young man from Chandwa has donated blood my conviction that there are still too many donors around and the need of the hour is to tap such blood donors gets further bolstered."
The secretary of the Red Cross Society Latehar, Vikas Kant Pathak, said he had to request a co convener of their Voluntary Blood Donor Association Latehar, Kumar Nawneet who lives in Chandwa to visit Navin Singh to prepare him to travel for the blood donation in Latehar. 
Pathak said Nawneet met Navin and persuaded him to save the life of the patient. Navin just couldn't say no to it and got ready to come over to Latehar for donating blood. 
Nawneet brought Navin in a car and made the back and forth journey from Chandwa to Latehar. 
Speaking to The Telegraph Online, Navin said this was his second blood donation and he would be doing it all for "humanity".
"As of today we have just 8 units of blood available in the blood bank of Latehar," said Pathak.
He said there are 46 patients of thalassemia and sickle anemia in the district for whom the Voluntary Blood Donor Association is always ready in times of shortage of blood.