Lalu's bail hearing deferred till December 11
HC asks both parties to clear ambiguity over jail term served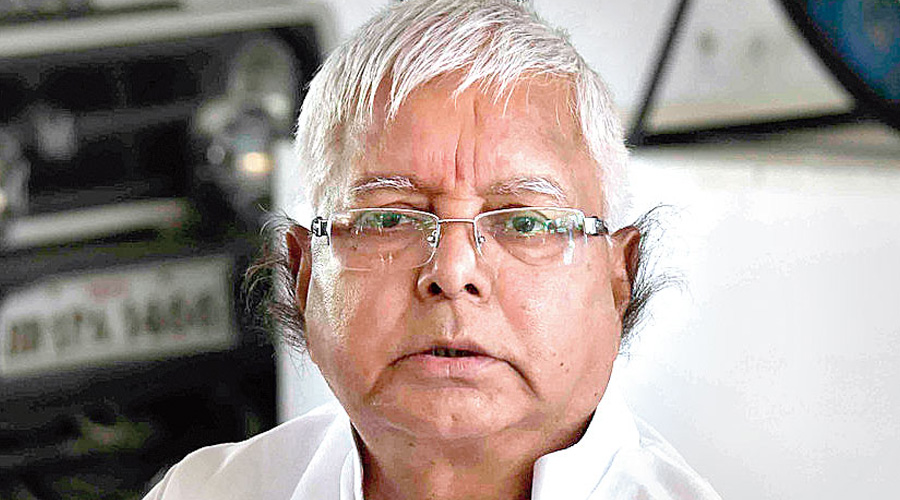 ---
|
Ranchi
|
Published 27.11.20, 05:01 PM
---
Hearing on a bail plea by incarcerated RJD chief Lalu Prasad in a fodder scam case was deferred until December 11 by the Jharkhand High Court on Friday.
Lalu's advocate Prabhat Kumar said bail was sought on the grounds that the RJD chief had already served half of the imprisonment term awarded to him by the court in connection with illegal withdrawal of Rs 3.13 crore from Dumka treasury.
"The bail plea was opposed by the CBI counsel, therefore both the parties have been asked to get the claims verified by a lower court," said Kumar, adding that according to their calculation, Lalu had already served 42 months and 28 days in prison, which is half of the total imprisonment term of seven years.
However, the CBI said in court that Lalu had served only 34 months and a few days of imprisonment and eight months were left for him to complete half the term.
The former Bihar chief minister has so far been convicted in four out of five fodder scam cases involving the illegal withdrawal of several cores. These include two cases related to withdrawal of money from Chaibasa treasury, one related to Deoghar treasury, one to Dumka treasury and one to Doranda treasury in Ranchi. Barring the Doranda treasury case, he has been convicted in all the remaining cases.
A special CBI court, in 2018, had sentenced Lalu to 14 years of imprisonment – seven-under IPC sections and seven more under Prevention of Corruption (PC) Act – in the Dumka treasury case. The court had said that both the terms would run consecutively.
However, Lalu's lawyers are hoping that the court would strike down the former order and allow Lalu to serve both the terms of seven years each, simultaneously.
On Friday, supporters of the RJD chief formed a beeline outside the paying ward of Rajendra Institute of Medical Sciences (RIMS) anticipating a decision in favour of Lalu's bail petition. However, they turned away disappointed after the court deferred the hearing till December 11.
On Thursday, a BJP leader had moved a PIL against Lalu in Jharkhand High Court over a purported audio clip of his alleged telephonic conversation with a BJP MLA in Bihar going viral on social media.