Kejriwal catches up with friends
Arvind Kejriwal appeared excited about the changes in the "city's landscape" from the early 1990s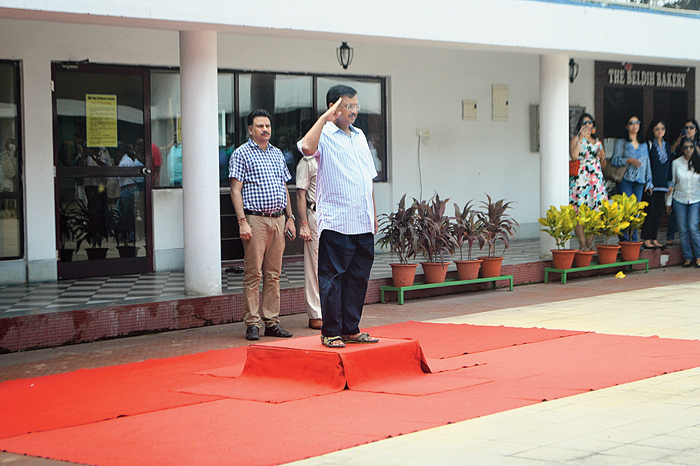 ---
---
Delhi chief minister and Aam Aadmi Party (AAP) national convener Arvind Kejriwal, who was once a young mechanical engineer straight out of IIT Kharagpur working for Tata Steel, on Saturday appeared excited about the changes in the "city's landscape" from the early 1990s.
The firebrand politician, who came to the steel city on Friday night, attended a get-together of his "techie buddies" at Beldih Club on Saturday morning, before leaving for Delhi via Ranchi.
Calling his visit a purely "private affair", Kejriwal, 51, interacted briefly with the media at Hotel Sonnet, Bistupur, where he put up for the night on Friday.
"I have come here on the invitation of my friends and graduate trainee batch-mates for a get-together and would not like to comment on politics," said Kejriwal, who reached the steel city after 8pm on Friday, taking a Ranchi flight from Delhi and then coming to the steel city by road. "However, I would like AAP to contest in more seats in the Assembly polls scheduled in the state (Jharkhand). We are keen to enrol good persons in our party."
The Beldih Club get-together for the 1989 batch of graduate trainees (young engineers who joined Tata Steel in 1989) on Saturday morning was off bounds for the media as well as AAP party workers.
Kejriwal was just being 'Arvind', meeting his friends after a long time, reliving his carefree days spent at Jamshedpur.
However, as the chief minister of Delhi, Kejriwal could not escape all the trappings of power. District police gave a guard of honour for the Delhi chief minister at Beldih Club.
One of his friends, who is still working with Tata Steel in the engineering and projects division, pleaded not to be named while speaking briefly to this reporter.
"Arvind Kejriwalji after completing BTech in mechanical engineering from IIT Kharagpur had joined Tata Steel in 1989 as a graduate trainee and he used to stay in the GT (graduate trainee) Hostel in Kadma. He had worked for nearly three years before he resigned in 1992 to join the Indian Revenue Service," said the Tata Steel executive.
"Kejriwalji worked in the mechanical section of central engineering development division. We still remember the days he used to draw a basic monthly salary of Rs 2,400 during his training period," smiled Kejriwal's former colleague and friend.
So, what else did the chief minister of Delhi speak about?
"Sure, he was nostalgic," recalled the Tata official. "He promised to visit some of his old haunts in Kadma and Bistupur the next time he comes here. He was also excited at the changes he saw in the city's landscape since the early 90s. Lots have changed in Jamshedpur."
Kejriwal, however, expressed dismay at the poor condition of the NH-33 linking Jamshedpur and Ranchi, the official said. The Delhi CM came by road from Ranchi, using the highway, and left the same way, so he had a first-hand experience.
AAP in state polls
Rajesh Verma, AAP state spokesperson, told the media that talks had been held with Arvind Kejriwal for fighting over 20 of the 81 Assembly seats in state polls. "Kejriwalji said this was a private visit but promised to come to Ranchi again after Durga Pujas to chalk out details on seats for the Assembly polls. We are looking at fighting in over 20 seats," said Verma.
AAP had not fielded candidates in any of the 14 seats in the Parliamentary polls. They had dropped the Jamshedpur candidate Dinesh Mahto after a sting operation revealed he sought money to support the BJP candidate.