JSACS vehicle woes hit blood collection
Jharkhand State Aids Control Society's only mobile blood collection vehicle has been out of service for the last 20 days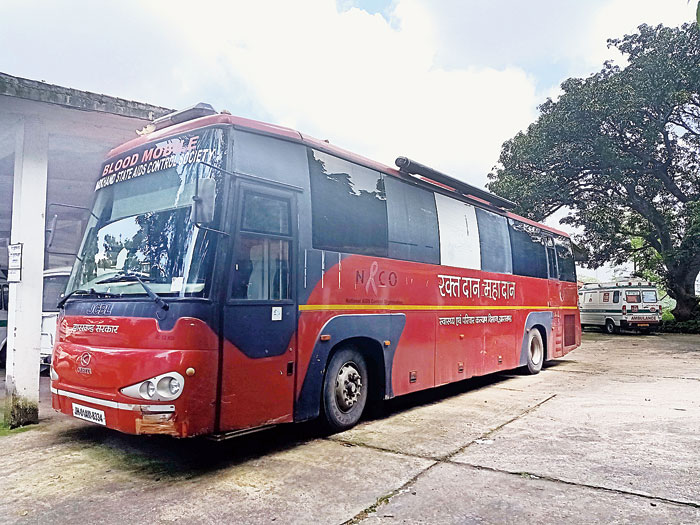 ---
|
Ranchi
|
Published 30.08.19, 07:05 PM
---
Jharkhand State Aids Control Society's only mobile blood collection vehicle, which was being used to organise blood donation camps on wheels since 2010, has been out of service for the last 20 days.

Thanks to the Rs 1.6-crore vehicle lying defunct, blood collection by going to localities has stopped, said Nadeem Khan, convenor of the public health organisation Lahu Bolega.
"At a time when the government is claiming to have achieved big in the field of health, delay in repairing of a blood donation vehicle is exposing its seriousness towards maintenance of infrastructure available for the service of people," Khan said. "The fully air-conditioned bus was provided by National Aids Control Organisation (Naco). It is equipped with facility to collect blood from four persons at a time. It has proper capacity of storing blood."
Mrityunjay Kumar Barnwal, project director with Jharkhand State Aids Control Society, said the vehicle would be repaired within a week.
"The work of maintenance and repairing of the bus was being done by a Punjab-based leading bus manufacturing company, JCBL, under an agreement with Naco," he explained. "The agreement expired a month ago. When we contacted the company, it gave us a repairing cost estimate of Rs 52,000, saying that the company would soon sign an agreement with Naco. Thus, in order to save public money, we waited for the agreement.
"When we realised that the new agreement process will be delayed, we decided not to wait and decided to pay for the repairs from our account," Barnwal added.
"We have asked JCBL to do the repairs and hope the work will be done within a week."
While the JSACS vehicle is the only one of its kind operational in the state, three smaller such vehicles are also parked on the National Riral Health Mission campus at Namkum.
A watchman said the vehicles were stationary there for the last three months.
NHM director Shailesh Chourasia said those vehicles needed work.
"The vehicles are not furnished for proper utilisation," he said. "Hope the work will be done within a fortnight."