MGNREGA jobs helped people sustain in Jharkhand during 2020-21
It was revealed in a report on performances of the scheme released by an independent organisation, Lib Tech India, late last week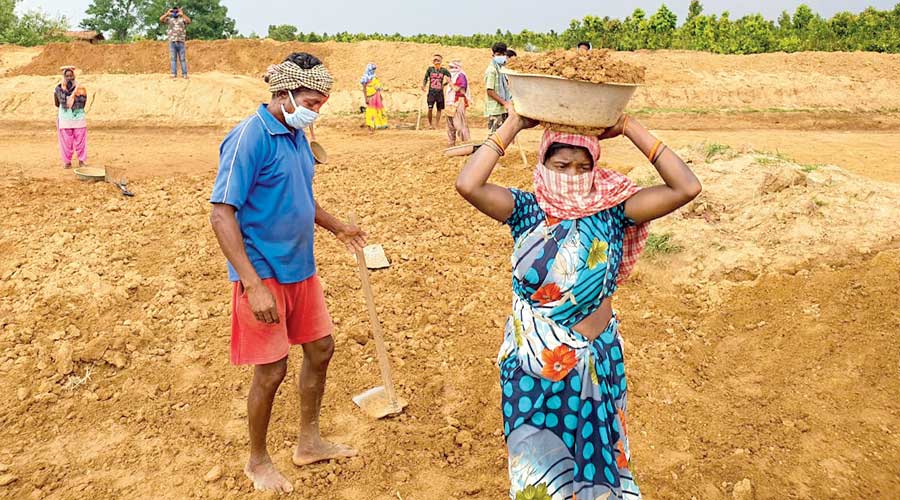 Villagers at a NREGA job scheme work site in Ranchi.
Manob Chowdhary
---
Ranchi
|
Published 04.05.21, 02:58 AM
|
---
The jobs created under the Mahatma Gandhi National Rural Employment Guarantee Act (MGNREGA) helped people sustain in Jharkhand during 2020-21 and also expected to do the same even this year.
This was revealed in a report on the performances of the job scheme released by an independent organisation, Lib Tech India, late last week. 
"We have just complied the data as available in the
public domain to arrive at the conclusion," said Laavanya Tamang of the organisation, adding they considered several indicators such as work and employment and payment issues.
This job scheme helped scores of migrant workers who returned to their homes in Jharkhand following lockdown last year sustain lives and livelihoods, the report said, adding "over 14 lakh new job cards were issued in the state during 2020-21 that recorded a 75 per cent increase over the number of the previous year (2019-20)".
Though almost all districts issued more than double number of job cards during the year, districts like Giridih, Palamau and Sahebganj were particularly noteworthy, the report said.
Over 11 crore person days were created under the job scheme in Jharkhand that was more than 89 per cent of the previous year's figures.
Though almost all households got jobs for over 46 days that year, 3.56 per cent of the total households got full 100 days' jobs, the report pointed out. 
The person-days for women workers were also increased by 89 per cent, it further said.
The job scheme was, however, also not free from glitches. Over 11 lakh transactions related to wage payments were rejected because of factors like biometric mismatch such as unsuccessful seeding of Aadhaar and bank accounts of the beneficiaries, the report pointed out, adding that wages related to 2020-21 for over Rs 14 crore were still pending.
Reduction in payment delays and elimination of rejection in transactions would go a long way to help improve the scheme, the report expected.
With the second wave of Covid-19 infection again prompting return of the migrant workers this year, the job scheme is expected to continue to play an important role in sustaining lives and livelihoods of the people of the state, the report said.
"There is, however, no prominent indication for increased demand for job under NREGA so far," said James Herenj, convener of NREGA Watch that monitors the job scheme in the state.
"May be the demand will pick up soon as the people are still very scared of the Covid-19 infection during the second wave and its fatality," he said, adding the picture would be clear after some time.