Jharkhand takes a step forward towards smart policing
The pilot project has begun in the rebel-hit Gumla district, making it the first district in the eastern region of the country to do so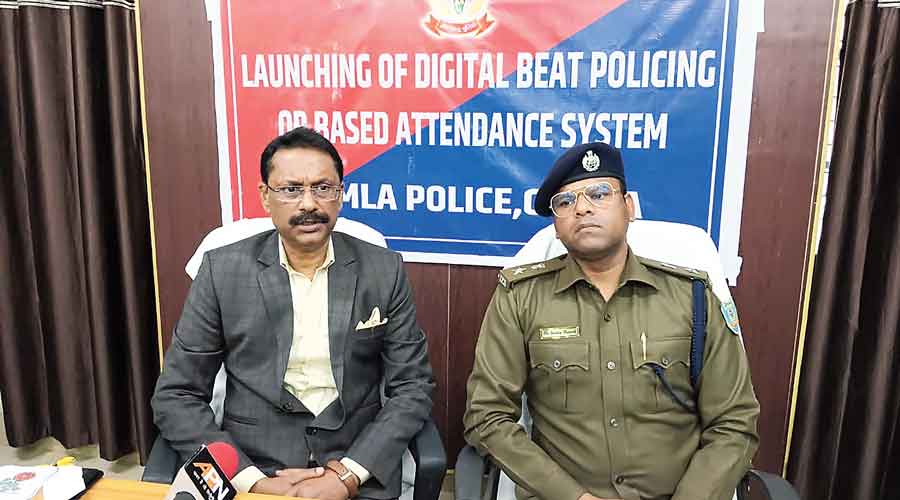 Gumla DC Shishir Kumar Sinha and (right) SP Ehtesham Waquarib during the launch on Monday.
Bhola Prasad
---
Jamshedpur
|
Published 17.02.22, 12:22 AM
|
---
Jharkhand police have taken a step towards smart policing with the introduction of a QR-code-based digital e-beat attendance system along with the conventional logbook system.
The pilot project has begun in the rebel-hit Gumla district, making it the first district in Jharkhand and in the eastern region of the country to do so.
"QR-code based e-beat system has been introduced in Bangalore, some parts of Telangana, Chandigarh and Delhi. But not in any states of the eastern region like Bihar, Bengal, Odisha or Assam. It is a step towards smart policing and based on the feedback in Gumla we will gradually roll it in other districts too," said a senior police officer of IG rank in the state police modernisation unit in Ranchi.
Jharkhand DGP Niraj Sinha speaking to The Telegraph said: "It is a good initiative by the Gumla police to have started the QR-code-based digital e-beat attendance system. We will gauge the response and gradually replicate it in the major cities in the first phase."
Under the previous conventional logbook system, beat police had to manually record their movements in the biometric attendance machines installed along with their respective beats.
"With the QR-code based e-beat attendance system, police personnel have to scan QR codes placed along their routes with their mobile phones. As soon as the beat policeman scans the code, the officer in charge will not only get a confirmation but will also be able to track his or her movement through GPS and know the exact location on GPS," said Gumla SP Ehtesham Waquarib.
"The QR-code-based e-beat system is an effort to make the beat policing effective, efficient, transparent, and accountable," added the SP who is also an MBBS.
At the moment, Gumla police have installed QR codes at 22 places of strategic importance for as many beats mostly in urban areas.
"Police personnel especially the bike-borne beat police patrolling party will have to record their attendance at these 22 beats through scanning the codes installed in safe places four times in a day. Gradually, we will be increasing the beats to 50 places and later in even remote rural areas. We have studied similar systems in southern states and have tried to remove the demerits before introducing it in the district," informed the SP.
Gumla deputy commissioner Shishir Kumar Sinha who along with the SP launched the initiative on Monday hoped that the efforts at promoting digitisation in the police beat attendance will increase police activism, maintain peace and curb crime.