Development economists Jean Dreze and Reetika Khera visited villages in mineral-rich district of West Singhbhum in Jharkhand and observed an extremely worrying schooling crisis and mass embezzlement in the public distribution system (PDS).
Dreze along with Khera, a professor at IIT Delhi, and accompanied by Right to Food activists had visited nearly five villages in Tonto and Chaibasa Sadar blocks of the district between April 24 and 25 and had met the deputy commissioner of West Singhbhum Ananya Mittal to discuss the situation.
They wrote a letter to the deputy commissioner on Thursday demanding a literacy campaign and steps to stop embezzlement in the public distribution system.
"We visited three schools in Tonto and Chaibasa Sadar blocks earlier this week. None of the children in any of these three schools were able to read beyond a few simple words (at best), even in Class V. Further, there was no sign of any special measures being taken to help these children, who are now in danger of becoming de facto drop-outs. We feel that in addition to better facilities and teaching methods in the schools, it would be useful to organise evening literacy classes for children for a period of at least one year," the letter states.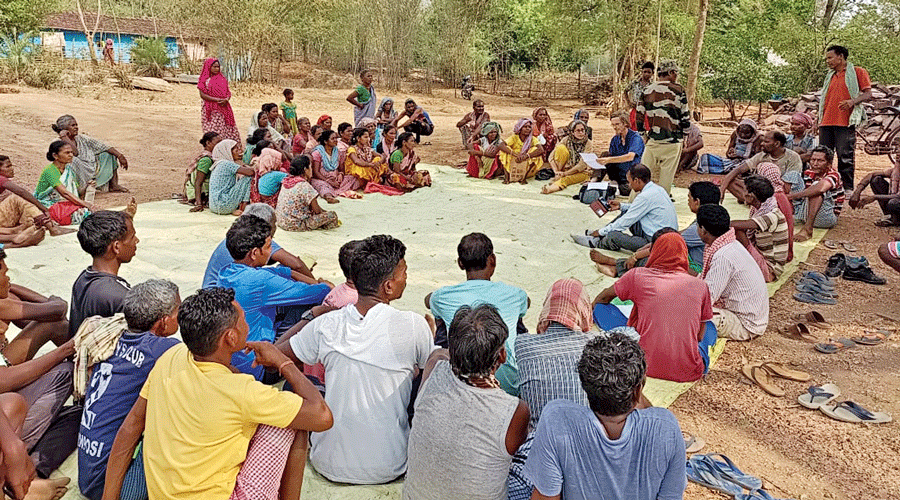 Jean Dreze (in blue shirt holding a piece of paper) and Reetika Khera interact with villagers about PDS issues in West Singhbhum district earlier this month. Bhola Prasad
It also informs about the short plan prepared by Latehar district administration for this purpose and appealed to consider a similar plan for West Singhbhum.
"We also feel that this literacy campaign should include mass awareness programmes that help to foster more public involvement with this issue, especially the parents and the teachers. We take this opportunity to urge you once again to revisit the decision on supplying meals to school children in rural areas from a centralised kitchen. Centralised kitchens are best suited for urban areas where school density is high. In rural areas quality control will be harder and they are likely to cause disruption, increase the likelihood of food getting spoiled (especially in the summer) and cause food poisoning. Timely supply in a reasonable window will also be a challenge," the letter states.
In another letter, the economists alert the deputy commissioner on "return of mass embezzlement in the public distribution system in West Singhbhum" and seek urgent intervention.
"We visited two villages Sankuchiya and Kainua in Tonto block a few days ago and were alarmed to find that, most people were not clear about their current rice entitlement of 10kg per person per month, most people were getting less than even 5kg per person per month and earlier complaints sent to the concerned authorities (including the district administration) had not been addressed. All this was particularly disappointing as an earlier survey, in 2017, suggested that the PDS was working reasonably well in this area at that time," the letter states.
It also mentioned that ration card entries made by the local dealer in Sankuchiya village corresponded more or less to what he had actually distributed.
"We took photos of 94 ration cards and matched the March entries with the corresponding electronic records (generated by PoS machines). Result: the dealer had distributed just one third of the quantities released as per electronic records. This is an extreme case of visible embezzlement. We urge you to take strict and immediate action against the dealer (including recovery and cancellation of license)," the letter states and attaches a spreadsheet of the records.
"Similar enquiries by members of Khadya Suraksha Jan Adhikar Manch in various parts of West Singhbhum suggest that the situation is similar elsewhere," the letter adds.
It suggests for a mass awareness campaign to ensure that people know about their entitlements including the additional 5kg per month rations under Pradhan Mantri Garib Kalyan Anna Yojana (PMGKAY). PDS dealers should be clearly instructed to carry out biometric authentication at the time of distribution and not in advance, or face action.
Surprise inspection at selected PDS outlets should be carried out regularly by trusted officers independent of the food department and exemplary and well-publicised action should be taken against corrupt dealers.