Jharkhand plan to ease traffic jams in cities
Chief minister Hemant Soren said that all cities will get bypass roads to ease the pressure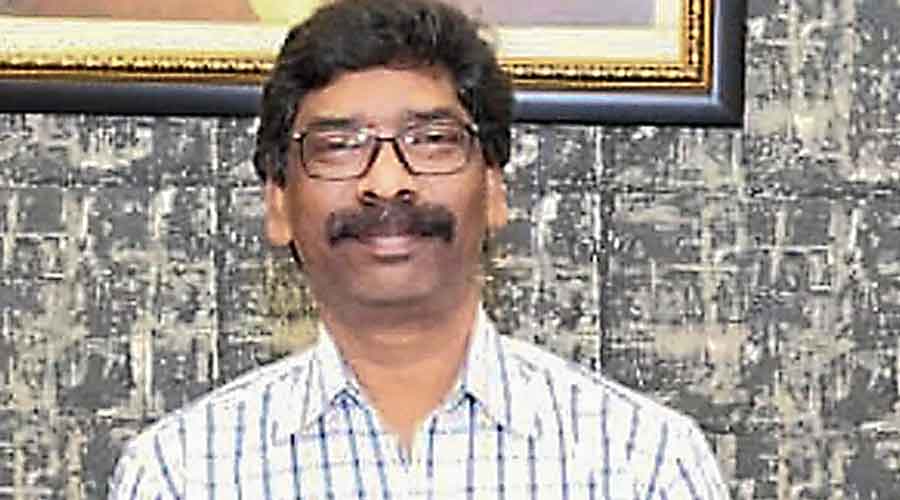 ---
Jamshedpur
|
Published 02.10.21, 01:26 AM
|
---
Jharkhand chief minister Hemant Soren on Friday announced that all cities facing traffic bottlenecks due to entry of heavy vehicles will get bypass roads to ease the pressure.
After inaugurating the 400MW Itkhori power grid and transmission line in Chatra district on Friday afternoon, Soren said: "Several representatives placed a demand for a bypass road in Chatra. I would like to announce that the foundation stone for a bypass in Chatra would be laid in January. The government is working on identifying all those cities having the need for bypass roads and would soon approve plans for their construction to reduce traffic bottlenecks due to heavy vehicles."
The newly constructed 220/132/33KV grid at Itkhori having a total length of 108km has been built at an estimated cost of Rs 189.70 crore with an aim to ensure quality power supply to the region.
With the commissioning of this grid sub-station and transmission line, the decades-long power woes in the districts of Chatra, Hazaribagh and Koderma are expected to come to an end and also reduce their dependence on the Damodar Valley Corporation (DVC) for power supply, officials said.
"Seven districts of the state — Bokaro, Dhanbad, Giridih, Koderma, Ramgarh, Chatra and Hazaribagh — are fully dependent on the DVC for power. With the inauguration of the Chatra-Itkhori transmission line, the entire district of Chatra, along with parts of Hazaribagh and Koderma, would no longer have to remain dependent on the DVC as these areas would now receive power directly from the Jharkhand Bijli Vitran Nigam Limited (JBVNL), the state-owned power distribution company," said an official of the JBVNL.
The chief minister also announced the laying of foundation stone for another power grid at Dhada and a dairy processing plant in Chatra district.
The chief minister said that the government will promote solar power plants.
"Use your barren land and the roof of the house to set up a solar power plant. With this, not only will they be able to generate electricity for themselves, but the government will buy the surplus electricity. This will increase your income and you will become a partner in the development of the state. The government will give subsidy for setting up solar power plants," said Soren.
The chief minister warned those contractors and influential persons who allegedly encourage villagers to cultivate opium and stated that strong action would be taken against them. He also asked the villagers to take benefit of alternative sources of farming by engaging themselves in animal husbandry and other schemes of the government and assured they would be able to earn double of what they get from opium cultivation.
The chief minister inaugurated 82 schemes worth Rs 275.45 crore and laid the foundation stones of 18 schemes worth Rs 91.79 crore along with the distribution of assets to the beneficiaries of various government schemes.