Jharkhand news digest: Six members of UP-based shooter Aman Singh's gang arrested in Dhanbad
Elsewhere: Traders eye business during festive season with BCCL announcing bonus of Rs 72000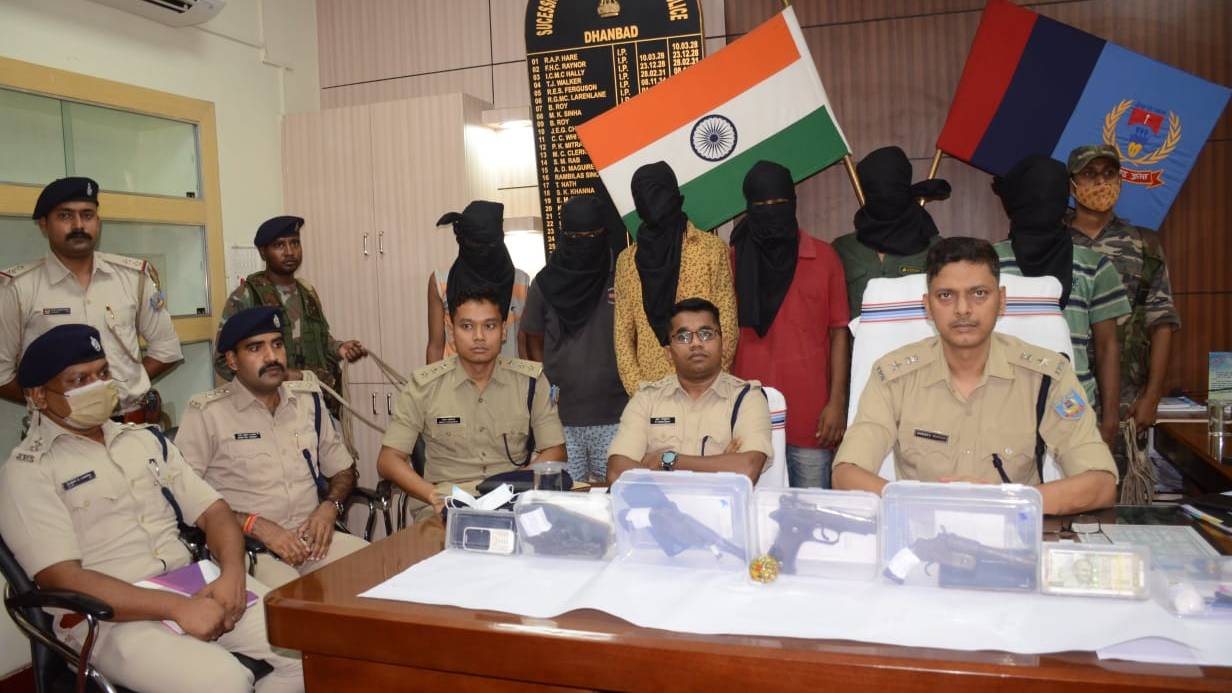 Arrested criminals (six) at the SSP Dhanbad, Sanjeev Kumar 's(in pic sitting right)office today.
Gautam Dey
---
Published 05.10.21, 09:32 PM
|
---
Dhanbad: Six members from the gang of UP-based shooter Aman Singh have been arrested by Dhanbad police for making threat calls to coal city traders. They have been demanding extortion money from different traders, property dealers and political leaders of Dhanbad. They also threatened them with dire consequences.
Police seized four pistols, including a 9 mm, a 7.65 mm pistol, two country made pistols; four crude bombs; six live cartridges of 7.65 mm; four.315 mm live cartridges; one 9 mm live cartridge besides two motorcycles and seven mobile phones from those arrested.
Three of them have been identified as Saddam Ansari (29) a resident of Jharia; Arun Kumar (25), a native resident of Siwan in Bihar and Suraj Kumar Gupta (20) a resident Kustore in Dhanbad have criminal history while the criminal antecedents of three others including two residents of Azamgarh in Uttar Pradesh Anuj Kumar Singh and Zeishan Khan and one resident of Sheikhpura of Bihar, Rohit Kumar Tanti is being scanned.
Sanjeev Kumar, Senior Superintendent of Police of Dhanbad said, "Several raids were conducted by the special police team led by Manoj Swargiyari Additional Superintendent of police in connection with bomb attack at Juhi Kia Showroom of Dhanbad based trader, Deepak Sanwariya of September 29, following which they were arrested."
"Two persons of the gang of eight involved in the incident are yet to be arrested. Raids are on to arrest them" said Kumar. Saddam Ansari who was involved in the several cases of coal theft in Jharia acted as kingpin of the gang and was in direct touch with Aman Singh.
According to forensic experts who examined the seven mobile phones recovered during the arrest, they used to make extortion calls through WhatsApp calls and messages.
Notably, Singh was arrested by police on May 3, 2017 in connection with former Deputy mayor Niraj Singh murder case of March 2017 and brought to Dhanbad jail on May 9, 2017. He was transferred to Hotwar Jail, Ranchi last year.
Praduman Choubey
BCCL Bonus of Rs 72000 to bring liquidity in market Dhanbad: The announcement performance linked reward (PLR), also known as bonus worth Rs 72500 to each of 2.5 lakh employees of Coal India Limited, including 38615 employees of its Dhanbad based subsidiary, BCCL, following the agreement between management and employees has brought cheers not only on the faces of beneficiaries but thousands of small medium scale traders of the district. It is expected to bring the much needed liquidity in the market during the festive season of Durga Puja, Diwali and Chhath.
Apart from BCCL, around 5 thousand employees of Mugma area of another subsidiary of coal town, Eastern Coalfields Limited, will also be benefitted following the finalization of PLR agreement between management and employees represented by trade unions, although the bonus will be credited in the bank account of employees on October 11.
Though, ECL has more than 52 thousand employees but majority of its operational area lies in nearby areas of Bengal in Asansol and Raniganj
Apart from BCCL and ECL, the festive bonus announcement for 11,000 thousand employees of Steel Authority of India Limited (SAIL) and around 24,000 Dhanbad Division employees of Railway is also likely to be made soon. Tata Steel has already announced and provided bonuses to its employees in August itself during which around 2500 employees of Jharia Division have been benefited.
Notably, a cumulative amount of around Rs 4 billion is likely to be pumped into the market ahead of Durga Puja scheduled on October 15.
Talking to the Telegraph Online today, Rajesh Kumar Gupta, patron of Dhanbad Zila Chamber of Commerce and Industry, said, "he market was eagerly awaiting the announcement of finalization of PLR agreement of BCCL as it is the biggest employer of Dhanbad and since the bonus this year is around Rs 4,000 more than the previous bonus of Rs 68500, we have more reasons to rejoice."
"Since the bonus amount is generally not used in saving and rather invested in celebrating the puja by purchasing garments, footwears and electronic items etc," said Gupta and added that the money is also used in purchasing FMCG items besides vehicles and jewellery during Dhanteras and Diwali.
Praduman Choubey