Jharkhand news digest: Bihar police seizes truck supplying illegal liquor
Elsewhere in the state: 35 caught for Covid norm violation; LPG cheating in Katras; LPG cheating in Katras; Bokaro Railway employee wife hangs herself; Koderma police catch train thief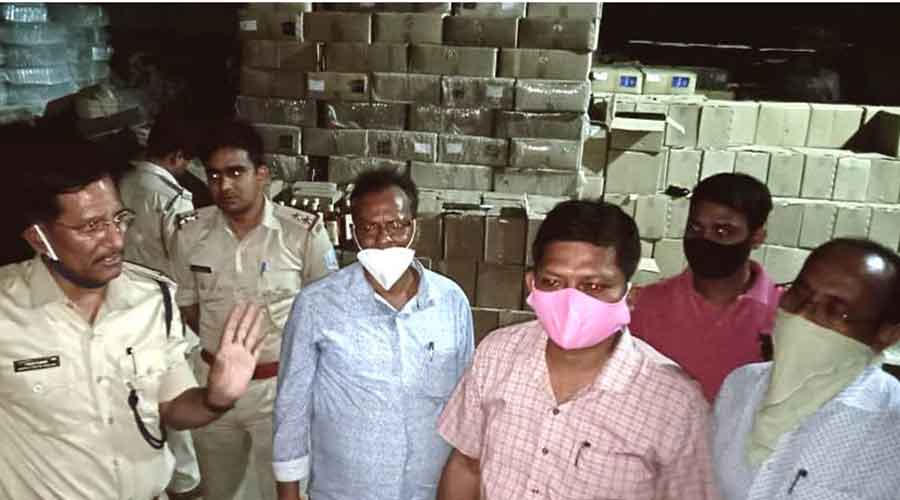 The raid being conducted by Bihar excise and police team with local administrative officials in Balidih Industrial Area
The Telegraph picture
---
Published 12.04.21, 01:46 AM
|
---
Bokaro: Bihar police have found a liquor manufacturing unit in Balidih Industrial Area of Bokaro, allegedly involved in supplying liquor bottles of various whiskey brands illegally to several districts of Bihar.
The liquor manufacturing unit is said to be of a prominent businessman, Anil Singh. Bihar has imposed complete ban on sale of liquors.
A joint team of Jamui police and excise department led by DSP, Aditya Kumar with support of Bokaro administration and police team conducted a raid in Shree Om Bottlers and Blenders Private Limited on Saturday night.
The team recovered more than 700 boxes of liquors bottles in a warehouse situated adjacent to the manufacturing unit.
SP, Jamui, Pramod Kumar Mandal said, "The raid has been conducted in Bokaro liquor manufacturing unit, following the recovery of a huge stock of liquor bottles from a truck parked near a Dhaba at Panaut Moad in Malaypur area of Jamui."
"There were six persons arrested by the police and the truck has been seized. When interrogated, the driver of the truck revealed that he had loaded the liquor stock from the liquor factory in Bokaro," added the SP.
SDO said that the local administration will also investigate whether the permits and license of the manufacturing unit and brand being produced in it is valid or not. The local excise department is also investigating to verify the status and ownership of the warehouse situated adjacent to the factory where the liquor stocks were recovered.  
35 caught for Covid norm violation
Dhanbad: The district administration sent around 35 people to a sensitisation camp for violating Covid protocols on Sunday.
The camp has been developed at JAP-III center in Govindpur.
The violators were caught for offences like not wearing masks at public places and not maintaining social distance.
They underwent a Covid test at the camp and were later released after collecting a fine and submission of bond pledging they will not violate the norms in the future. 
(Praduman Choubey)
LPG cheating in Katras
Dhanbad: Residents of Katras More locality on Sunday have complained about an LPG supply distributor cheating on quantity per cylinder.
Akhalaque Ahmad a local resident said, "We were noticing the lesser quanity of gas supply since a few months and caught the vehicle today and informed Jharia Police whose team came and took details from the gas distributor staff."
Manohar Kuamr, an ASI of Jharia police who carried out the probe said, "We are looking into the complaint and will carry out a probe before initiating action."
(Praduman Choubey)
Bokaro Railway employee wife hangs herself Bokaro: A 31-year-old woman hung herself on Sunday morning in Sector 6 / C area of the town.
The deceased, Punita Devi, was the wife of a railway employee posted at Bokaro Railway. They have two-and-a-half-year-old twins.
The police officer said that the incident took place between 5:30 am and 6:30 am. Punita Devi's husband discovered her hanging from the fan. 
Police have sent the body for post-mortem. A police officer said, the investigation is being done from every angle, but till now the reason which prompted Devi to hang herself is yet to be ascertained.
(Our correspondent)
Koderma police catch train thief Hazaribagh: Koderma police caught a youth on the Howrah-New Delhi Kalka Express who stole a fellow passenger's bag.
Umesh Kumar Das, a resident of Gohal under Jainagar police station, was caught after scanning CCTV cameras installed at Koderma station.