Jharkhand lines up mock health drills to tackle patients' influx
The authorities are alarmed after over 3,700 new Covid cases were reported on Thursday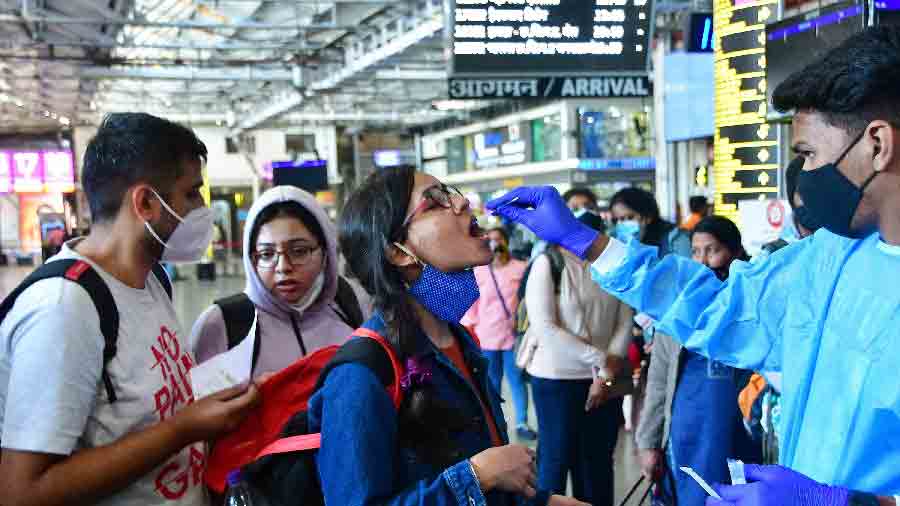 Representational image.
File photo.
---
Jamshedpur
|
Published 08.01.22, 12:11 AM
|
---
The Jharkhand health department has directed district magistrates to ensure mock drills on health preparedness to tackle a mass influx of patients with over 3,700 new Covid cases on Thursday.
The letter from the additional chief secretary (health) Arun Kumar Singh issued on Thursday, asks the district magistrates-cum-deputy commissioners of the 24 districts to ensure a sufficient number of oxygen supported beds, oxygen concentrator, Pressure Swing Adsorption (PSA) oxygen generation plants (source of medical-grade oxygen), various types of oxygen cylinders, ICU beds, ventilators, flowmetre etc in both private and government hospitals.
"The authorities should prepare an action plan for 60 days assessing the situation with the rapid increase of patients to make all preparation so as to avoid any problem in case of a large number of patients turning up in the days to come and ensure mock drill of the available infrastructure at private and government hospitals on regular intervals to check if they are functional or not," the letter directs.
Laying stress on mock-drills, the letter further states that this would also help to assess if the trained paramedical and doctors are able to handle a large number of patients and also adept in handling the equipment during an emergency in short interval and more importantly adequate number of trained paramedics and healthcare professionals are available at hospitals all the time.
"The mock-drill would also help to gauge if there are any gaps in the need of oxygen supported beds and ventilators in hospitals," the letter states.
The letter also directs district deputy commissioners to hold meetings with private and government hospitals to reserve a significant number of beds for Covid patients (based on an assessment of expected caseloads in coming days) and accord priority for the treatment of Covid cases.
Another letter from additional chief secretary (health) Arun Kumar Singh on the same date to district magistrates issued revised guidelines for home isolation of mild/asymptomatic Covid-19 cases.
"As of January 4, the active caseload in the state is 7681 with a significant rise in positivity rates of cases in Ranchi  (4.03), Koderma (10.34), Hazaribagh (2.64), Bokaro (2.74) etc and on the basis of the revised guidelines of Union health ministry mild/asymptomatic cases can be kept in home isolation," the letter states.
The letter directs the deputy commissioners to revive the portal www.swaraksha.nic.in which all mild/asymptomatic patients opting for home isolation can register themselves entering their mobile number and SRF ID number and furnishing all details including infrastructure details available in the home for home isolation and apply for home isolation. Only after filling up the details and submission of the application through the portal and upon clearance of the district administration the concerned Covid positive patients should be allowed for home isolation.
Significantly, as of now, even mild and asymptomatic cases are being admitted in hospitals and with the rise in cases it would become difficult to accommodate all in the hospitals.
The letter also directs for strict monitoring of all such home isolation cases through district-level Covid control centre and toll-free 104 medical helpline.
The letter informs that the home isolation period of a patient will automatically end if there is no fever for three consecutive days or after seven days of the date of confirmation result of the sample.
Incidentally, on Thursday Jharkhand added 3704 cases and has a positivity rate of 0.54 per cent which is significantly high than the national average of 0.10 per cent.