Jharkhand Investors' Summit: State govt promises Rs 10,000 crore investments, around 2 lakh jobs
Chief minister Hemant Soren stressed on the immense potential in the tourism, education and pharma sector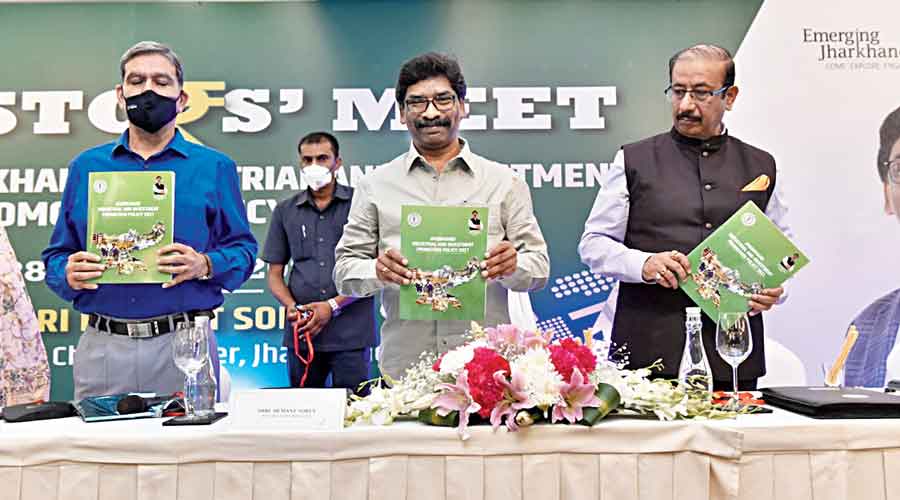 Chief minister Hemant Soren (centre) unveils the Jharkhand Industrial and Investment Promotion Policy 2021 in New Delhi on Saturday.
Manob Chowdhury
---
Jamshedpur
|
Published 29.08.21, 12:32 AM
|
---
The two-day Investors' Summit organised by the Jharkhand government in New Delhi concluded on Saturday with the promise of nearly Rs 10,000 crore investments as well as direct employment for around 20,000 and nearly 1.5 lakh indirect jobs.
Chief minister Hemant Soren, while unveiling the Jharkhand Industrial and Investment Promotion Policy 2021 at the summit, said: "We want to leverage the natural resources gifted to Jharkhand and walk the path of development with the cooperation of the investors. Hitherto, our focus revolved around industries based on mines and minerals. They will continue to be the backbone but we are now also working in the field of tourism, education, renewable energy, food processing, automobile, pharma and textile. A major part of these industries has been untouched in Jharkhand."
The new policy replaces the 2016 policy of the erstwhile Raghubar Das-led BJP government.
Making a major announcement in the renewable energy sector, Soren said: "Soon we will establish India's largest floating solar plant. This will generate solar electricity on a very large scale. All these are part of our effort to take Jharkhand upwards in the category of leading states of India."
The state cabinet had in April given nod to a 100MW floating solar plant in the Getalsud reservoir in Ranchi to be set up by the Jharkhand Renewable Energy Development Authority (JREDA) and Solar Energy Corporation of India (SECI) to meet the growing power requirement with environmental management.
Soren also stressed on the immense potential in the tourism, education and pharma sector.
"We have immense potential in the field of tourism. Incentive provisions have been included for the tourism industry under the JIIPP 2021. We have unlimited opportunities in the field of education. Netarhat School (in Latehar) is a nursery for budding bureaucrats of the country. Jharkhand is also doing well in the field of medicine. We are establishing pharma parks near Ranchi where we will provide land to medical equipment manufacturers. We are ready to promote educational and technical institutes," he said.
Chief secretary Sukhdev Singh spoke about the disciplined human capital and said that there has never been significant labour unrest in Jharkhand. He also praised the law and order situation and said that "Naxalism has been restricted to few 'rural pockets' of the state and would soon be eliminated from the geography of the state".
He pledged commitment on behalf of the bureaucrats of the Jharkhand government to implement the provisions of the policy on paper and at the ground level.
Industries secretary Pooja Singhal highlighted details of the JIPP 2021 and about the electronic manufacturing cluster at Adityapur which seeks to turn the state into an electronics manufacturing hub.
"We have a land bank of 1,000 acres with the government to set up industry and the state will soon be known as the hub of solar park, auto and electronic manufacturing," said Singhal.
She also said that within a month the state would also launch policies for ethanol, electric vehicles, pharma, automobile, rural industry, food processing, export and industrial parks.
She said that all potential investors who would commit to engaging 35 per cent of their workforce from Scheduled Castes/Scheduled Tribes communities will be incentivised over and above the existing provisions of the JIIPP 2021.
MoUs signed
⚫ SAIL will invest Rs 4,000 crore in the state over three years for upgrade of its Gua iron ore mines and setting up a pellet plant.
⚫ Tata Steel will invest Rs 3,000 crore in coal and iron ore mines and steel production in the next three years.
⚫ Dalmia Bharat Group will invest Rs 758 crore in the PPP mode for a new cement unit (at Bokaro), a solar power plant and a solid waste management facility.
⚫ Adhunik Power and Natural Resources will invest Rs 1,900 crore.
⚫ Prem Rubber Works will invest Rs 50 crore in a leather park and footwear, which will provide employment to 1,000 local people.