Jharkhand High Court asks police to release seized oxygen cylinders
State facing crunch in terms of logistical support, not in production of life saving resource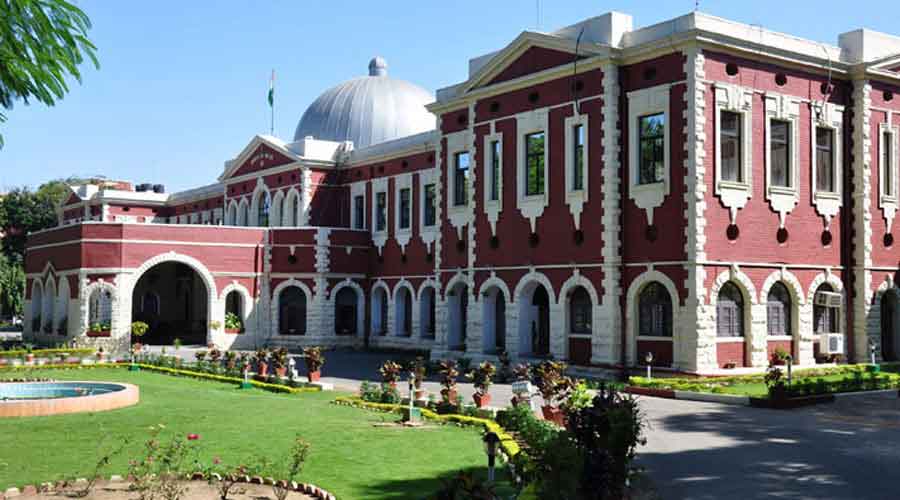 Jharkhand High Court
FIle picture
---
Ranchi
|
Published 08.05.21, 11:04 PM
|
---
The Jharkhand High Court has directed all deputy commissioners to immediately release oxygen cylinders confiscated under their jurisdictions for immediate use at all Covid-19 hospitals to tide over the crisis of cylinders in the state.
While hearing a petition filed by the state government seeking court's permission for using seized oxygen cylinders, the division bench of Chief Justice Dr Ravi Ranjan and Justice Sujit Narayan Prasad passed the order on Saturday. 
Over 200 oxygen cylinders were seized by police stations across different districts recently from black marketers and illegal rackets. They were kept in strong rooms under district police wings. At a time when the state government is battling with shortage of cylinders for oxygen supply at hospitals in the wake of increasing load of critical patients, it was finding it difficult to manage supplies due to logistic crunch. As per the norms, court's permission is must for using any items that are confiscated/seized by police during the raids.
As far as oxygen availability is concerned, Jharkhand isn't short of production but is in dire need of logistical support like oxygen cylinders, flow meters and oxygen concentrators among other medical infrastructure support to ensure seamless supply of the life saving resource up to the patient's bed at the hospitals.
Advocate general Rajeev Ranjan pleaded before the court on behalf of the state government. The bench hailed the government's move to address shortcomings and issued release order, said sources. 
The Jharkhand high court has been keeping a vigil on the state government's Covid management. On several occasions, it has pulled up the state for failing to address the shortcomings.
The court was also highly critical of the state government for being unable to streamline affairs at Ranchi's Sadar Hospital and on one occasion even admonished former Ranchi civil surgeon V.B. Prasad to resign from the job if he can't perform.
According to the officials in the state government's oxygen task force, Jharkhand currently produces about 600 tonnes of oxygen daily while the existing requirement is close to 100 tonnes. However, it has barely 10,000-12,000 cylinders that are too less to meet the growing requirements. With state government adding up oxygen supported beds regularly across the districts, it is working overtime to sort out the logistic gap.