Hemant Soren swearing-in on December 29
With JVM's backing, JMM-led alliance has support of 50 MLAs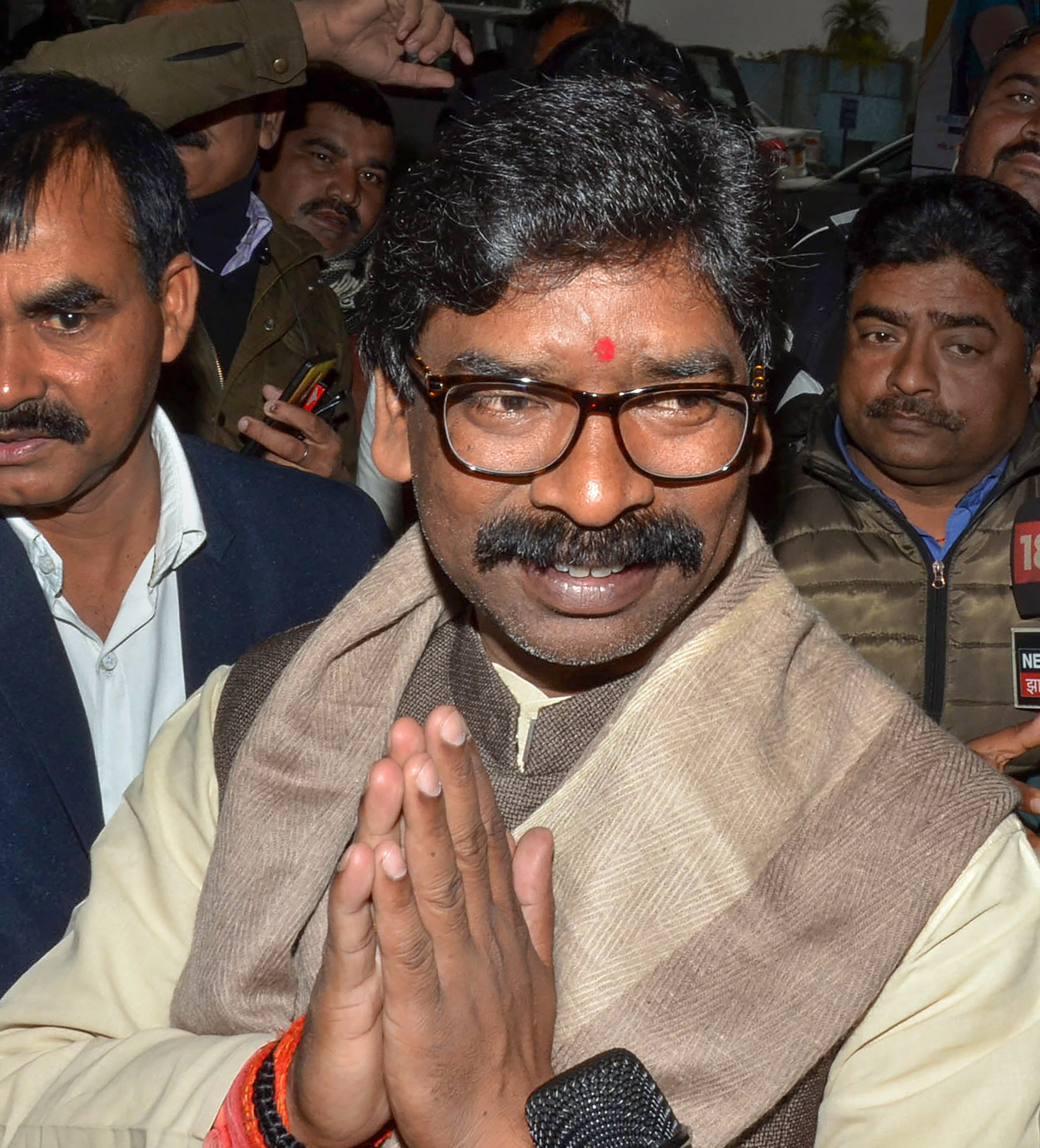 JMM working president and Jharkhand chief minister-designate Hemant Soren.
PTI
---
Ranchi
|
Published 25.12.19, 12:19 PM
|
---
Jharkhand Mukti Morcha (JMM) on Wednesday said Governor Droupadi Murmu had invited its working president and chief minister-designate Hemant Soren to form government with sources indicating that he would be administered the oath of office on Sunday, December 29.
The governor's invitation comes a day after Hemant called on Governor Draupadi Murmu at Raj Bhavan to stake claim to form the government, submitting a letter of support of 50 MLAs to her.
A Raj Bhavan source said the swearing-in ceremony would be held on December 29 at the Mohrabadi ground here.
In the letter handed over to the governor, Hemant said he had the backing of 50 MLAs of the JMM, Congress, RJD and the Jharkhand Vikas Morcha (Prajatantrik), according to a Raj Bhavan communique on Tuesday night.
The Opposition combine bagged 47 seats (JMM 30, Congress 16 and RJD one) in the 81-member Assembly, while the three-member JVM (P) has decided to extend "unconditional support" to Hemant to form a government.
"We are going to give our support in writing as well and it would be unconditional," Marandi said after Hemant called on him at the JVM chief's residence on Tuesday.
Hemant on Tuesday said that even though the JVM contested the election separately, its goal was the same as that of the winning alliance.
Both Marandi and Hemant, however, avoided answering queries on whether the JVM would find a place in the new government.
"My party has extended unconditional support," Marandi said.
Hemant said that the government formation process would be started "soon" and such things would be looked into at that time.
Saryu Roy, who defeated chief minister Raghubar Das from Jamshedpur East as an Independent, has already announced that he will extend "issue based" support to the new government.
A meeting of newly elected MLAs of the JMM was held at the residence of party patriarch Shibu Soren on Tuesday morning. Hemant was elected leader of the JMM legislature party.
Pakur MLA Alamgir Alam was on Tuesday elected as leader of the Congress legislature party.