A couple in their fifties died and a middle-aged woman was critically injured after being attacked by a swarm of honey bees in a forest in Dandai block of Garhwa district in Jharkhand on Thursday evening.
Panchayat samiti member Sandeep Gupta said daily-wage earner Nandu Paswan, 57, and his wife Meena Devi, 54, both residents of Jarhi Damar Tola village in Dandai block, had gone to collect firewood for cooking from the nearby Mahudand forest around 3pm.
"The couple had gone along with several other villagers to collect firewood. After nearly two hours the villagers sat down under trees to take a break and were eating when they were attacked by a swarm of bees. While the remaining villagers scampered to safety, the two could not escape.
"Meena Devi died in the forest itself and was declared brought dead at the Sadar Hospital while Nandu died later in the evening at the hospital. A relative of the couple, Urmila Devi, 35, who was also caught in the bee attack is in a critical condition at the Sadar Hospital," said Gupta.
According to locals, most of those who had gone to collect firewood escaped and informed other villagers after returning from the forest. The villagers then rushed to the spot along with a local medical practitioner to find Meena dead and Nandu senseless. The other woman had somehow managed to flee and collapsed at a distance from the village.
The village is around 250km northwest of state capital Ranchi.
Jitendra Paswan, 26, the only son of the deceased couple accused the central government for not transferring the domestic gas (LPG) subsidy amount in their bank account as the reason for the death of his parents.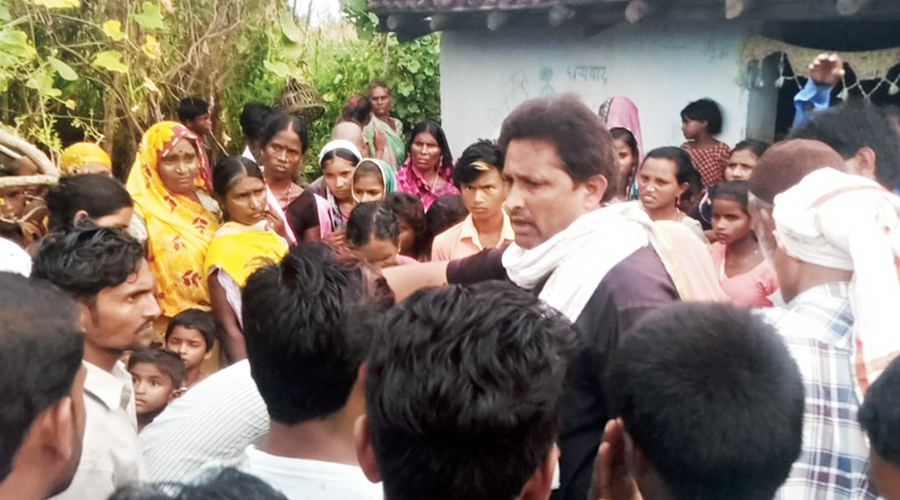 A policeman gathers details from villagers on Friday Bhola Prasad
"We have a gas connection in the name of my mother under Pradhan Mantri Ujjwala Yojana but for the last four months we are not able to refill cylinders as the subsidy amount was not being transferred. We are jobless in the lockdown and my parents had no option but to go to the forest to collect firewood and meet a tragic death," alleged Jitendra.
Garhwa deputy commissioner Rajesh Kumar Pathak said they did not have knowledge about any provision for compensation in case of death due to honey bee attack.
"However, if the son gives in writing about the LPG subsidy not being transferred to their bank account lead to their pitiable condition, then we can arrange for some financial aid on humanitarian grounds," said Pathak.
The bodies of the couple were sent by Dandai police for post-mortem on Friday morning before being handed over to the relatives for their last rites.