Jharkhand Congress observes Kisan Divas
Over 5,000 party workers from across the state gathered at Morabadi grounds where they held a meeting before marching towards Raj Bhavan, about 2 km away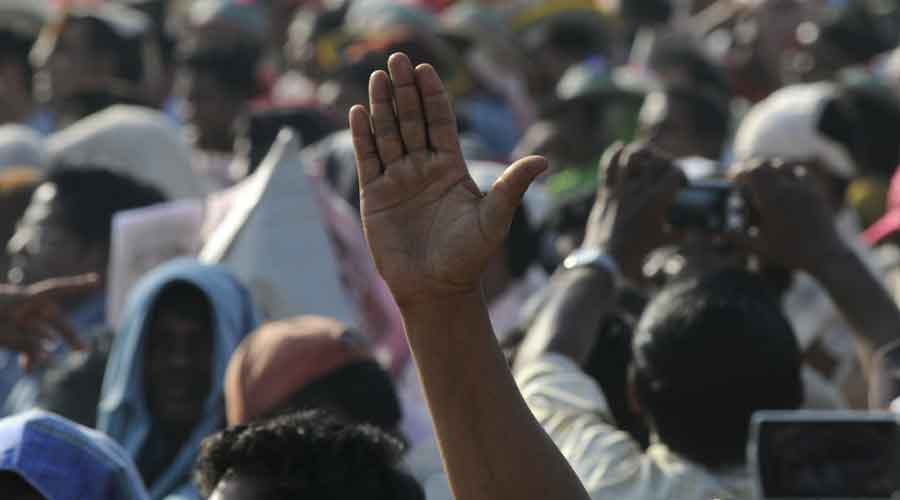 ---
---
The state unit of the Congress observed Kisan Adhikar Divas in Ranchi on Friday to express its solidarity with the farmers who had been agitating for withdrawal of the three new farm laws.
Over 5,000 party workers from across the state gathered at Morabadi grounds where they held a meeting before marching towards Raj Bhavan, about 2 km away.
Before the meeting began, they also observed two minutes silence in memory of those farmers who died during their agitation.
"The Union government must take back these three farm laws as those will break the backbone of the farmers," R.P.N. Singh, in-charge of the party's state unit, said while addressing the meeting, adding the Congress took pro-farmers stand whenever it was in power at the Centre.
"The UPA government had waived farmers' loans worth Rs 70,000 crore," he claimed, adding it also increased the minimum support prices of their crops from time to time.
"Repealing the farm laws is the only solution for the ongoing farmers' agitation," opined Jharkhand finance minister and state Congress president Rameshwar Oraon, explaining that the agitating farmers had become uncertain about the outcome of the Supreme Court appointed four-member committee and did not know what would happen next if the committee supported the farm laws.
"The central government must withdraw those laws as so many rounds of talks during the past 51 days of the farmers' agitation were not fruitful," said Congress legislature party leader Alamgir Alam who also addressed the meeting.
"In contrast, the ruling JMM-Congress- RJD combine in Jharkhand has already shown its pro-farmers attitude as it waived farmers' loans worth Rs 2,000 crore in the very first year," said state agriculture minister Badal Patrakekh, adding people could judge political parties by their actions.
"This was for the first time in 73 years since the country won Independence that the farmers resorted to such an agitation to express their anger over an action taken by the central government," said health minister Banna Gupta, adding the country would not tolerate such things.
The meeting was also attended by Congress MLAs such as Pradeep Yadav, Bandhu Tirkey, Deepika Pandey Singh, Purnima Neeraj Singh, Rajesh Kachchap,
Irfan Ansari and Naman Vixel Kongari, besides former chief minister Madhu Koda and his wife Geeta Koda who is also an MP.