Hemant picks Barhait, names Speaker
Hemant took the oath of office as Barhait MLA with 78 other MLAs on the first day of the three-day Assembly session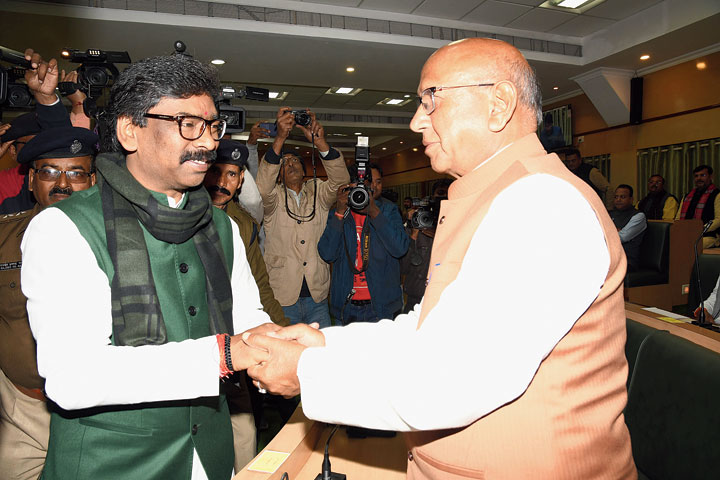 ---
|
Ranchi
|
Published 06.01.20, 10:31 PM
---
CM Hemant Soren, who won both Dumka and Barhait Assembly seat, on Monday quit the Dumka seat.
Hemant took the oath of office as Barhait MLA with 78 other MLAs on the first day of the three-day Assembly session. Pro-tem Speaker Stephen Marandi administered the oath.
After the House was adjourned at 10.30am, the chief minister clarified why he chose Barhait.
"Bhognadih, the place of martyrs, falls in Barhait Assembly constituency. Thus I chose to represent that Assembly constituency in the House. However, I thank the voters of both constituencies, Barhait and Dumka, for making me victorious from both the places. Election will soon take place in Dumka and we (the JMM) will retain the seat," Hemant said.
On June 30, 1855, a large number of Santhals assembled in Bhognadih, and under the leadership of brothers Sido and Kanhu Murmu, pledged to fight till death against the British. History has immortalised this revolt as the Santhal Hul.
But there may be other considerations behind Hemant's choice. JMM patriarch Shibu Soren lost the Dumka Lok Sabha seat in one of the biggest upsets last year to the BJP's Sunil Soren. Also, in the 2014 Assembly polls, Hemant had contested from Dumka and Barhait, but won from Barhait .
Hemant also informed the choice of the ruling JMM-Congress-RJD alliance for the post of Assembly Speaker. "Nala MLA Ravindra Nath Mahto (of the JMM) is the ruling alliance's choice for the post of Assembly Speaker, and has filed his nomination," he said.
A JMM insider said Mahto's selection was symbolic of tribal and non-tribal unity in the House. Mahto, a Kurmi, belongs to the OBC.
Main Opposition party BJP appeared in the House without a leader of Opposition. MLA C.P. Singh said the party would elect its leader after the "inauspicious" period. BJP rebel Saryu Roy, who defeated BJP leader and former CM Raghubar Das in Jamshedpur East, was heard taking a dig at this stance of his former party. "If the time now is so inauspicious, BJP MLAs shouldn't have taken oath today," he said.