Ajsu, JVM lick their chops
All 3 exit polls have predicted 3 seats for JVM while exit polls differ in opinion about AJSU party seat prediction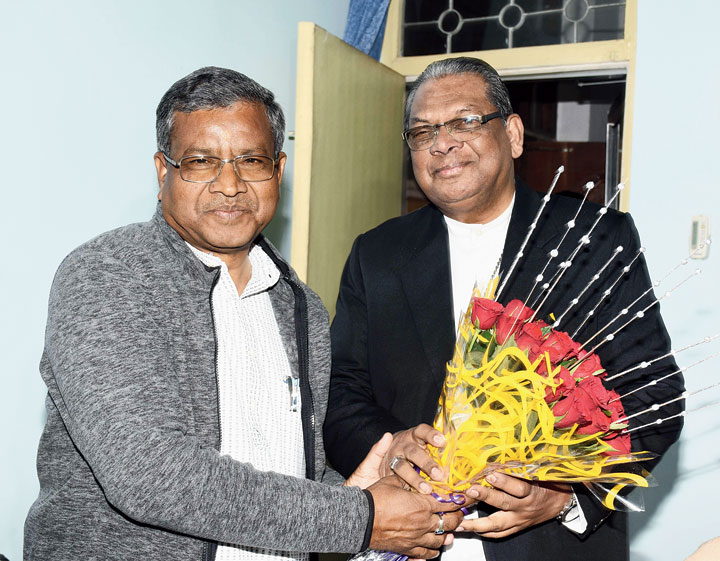 JVM chief Babulal Marandi meets Archbishop Felix Toppo in Ranchi on Saturday.
Picture by Prashant Mitra
---
Ranchi
|
Published 21.12.19, 10:15 PM
|
---
The mood in the Babulal Marandi-led JVM and Sudesh Mahto-led Ajsu Party camps is upbeat at the prospect of a hung Assembly, with three exit polls predicting a close race.
"Just wait for the results. We are going to get majority this time. The results are going to be historic," JVM media in-charge Tauhid Alam said on Saturday.
Referring to the 2014 Assembly elections when most exit polls had predicted zero to one seat for the JVM, Alam said: "We had ended up winning eight seats when many thought that we would not be able to win a single seat. This time their (exit polls') projection is a bit higher but that too would be proved wrong and a JVM government would be formed in the state."
This time all the three exit polls – by Times Now, IANS-CVoter-ABP and India Today-Axis My India – have predicted three seats for JVM.
Asked about the likely stand of the JVM in case the prediction of hung Assembly proved correct, Alam said: "In such a situation the decision of Babulal Marandi would be final and all of us would follow his directive."
JVM insiders, on the other hand, maintained that the internal assessment of the party was that it could get around 10 seats and would weigh its options only after assessing the overall performance of other parties.
"Nothing much can be speculated before actual numbers are available," said a JVM insider.
The mood in the AJSU party camp too is upbeat.
Leaders claimed the party's internal assessment has signalled very good results.
"We are going to be in double digits this time. All the exit-poll experts would be proved wrong," an Ajsu Party insider said.
After repeated quizzing, he said the party was expecting to win at least 15 seats.
While the Times Now exit poll gave no seat to Ajsu Party, the IANS-CVoter-ABP exit poll has given it five seats and India Today-Axis My India has given five as well.
The Ajsu Party leader maintained that apart from its strongholds, the party would also do very well in Santhal Pargana.
Contacted for comment about the party's likely stand in case of a hung Assembly, Ajsu Party spokesperson Deosharan Bhagat said: "We will discuss all the aspects and would join hands, if required, with those political forces which would keep the interest of Jharkhand at the top."
Asked if that might be interpreted as the party wanting to keep all its options open on post-poll alliances, Bhagat said: "It is not about options, but the interest of Jharkhand and its people and nothing else."