Jharia old-timers go into a huddle
Residents of Jharia held a three-hour meeting under the banner of Koylanchal Nagrik Manch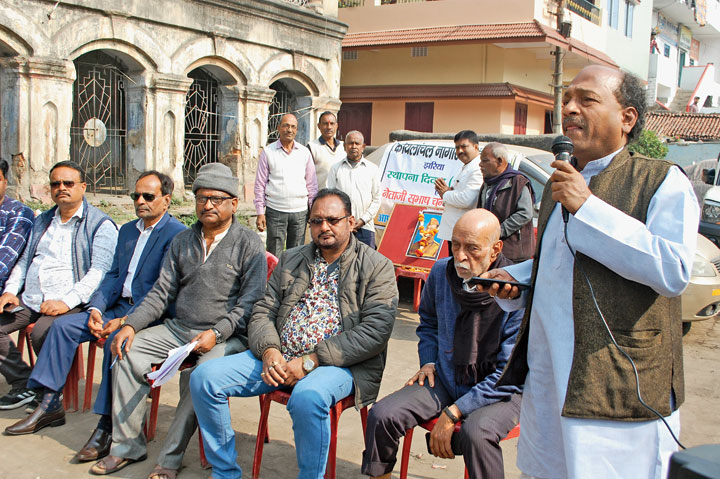 ---
|
Dhanbad
|
Published 23.01.20, 06:41 PM
---
Over 200 residents of Jharia held a meeting at Taxi Stand on Thursday and expressed their resentment against the negligence of the state and central governments, Bharat Coking Coal Limited (BCCL) and Jharkhand State Pollution Control Board in the wake of the Greenpeace India report that rated Jharia as the most polluted town in the country.
The three-hour meeting, which began from 11.30am, was held under the banner of Koylanchal Nagrik Manch.
Jharia old-timers such as Gopal Agarwal, 77, owner of Deshbandhu Talkies; K.P. Tiwari, 75, former principal of Gujarati Hindi Madhya Vidyalaya; Rajkumar Agarwal, 58, founder of Koylanchal Nagarik Manch; social activist Srikant Srivastava, 59; and president of Jharia Chamber of Commerce Amit Sahu, 50, resolved to take up the issue of pollution with district administration and the state government on a priority basis.
"The meeting also discussed the threat of displacement due to increasing mining activities and tardy progress of rehabilitation. We have resolved to take up all these issues with Dhanbad deputy commissioner (DC) Amit Kumar within a day or two. We will also meet chief minister Hemant Soren," Sahu said.
Rajkumar Agarwal said he would take up the issue of the wastage of District Mineral Foundation Trust fund with the DC.
"Majority of the fund is being spent on non-priority areas. The issue of pollution remains neglected," he said.
He said the mining overburden, which was the main source of pollution, should have been kept in abandoned underground mines to decrease the risk of subsidence. "Instead, they are dumped near the town, leading to pollution."