Jhargram Express to resume service from tomorrow
At present the passengers running between Dhanbad to Tatanagar and vice versa have no other option other than to travel through buses or other private vehicles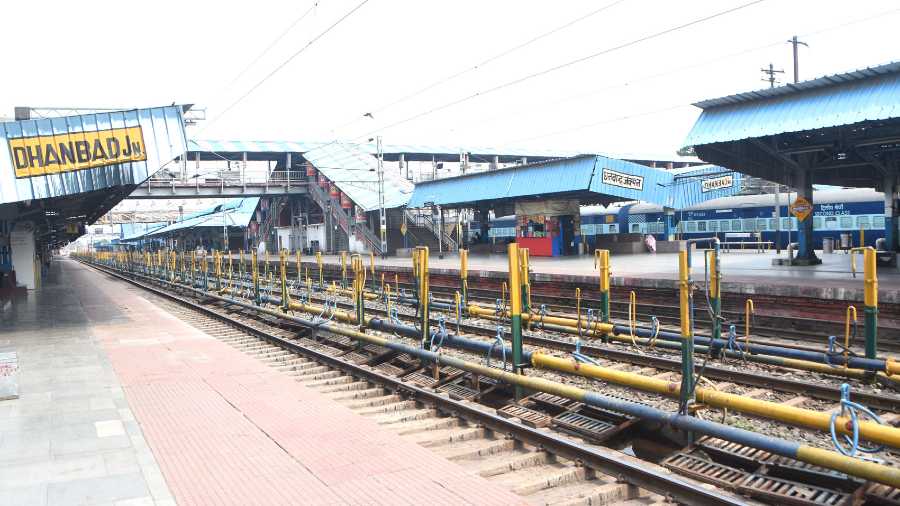 Dhanbad railway station.
Gautam Dey
---
Dhanbad
|
Published 06.09.21, 05:05 PM
|
---
Passengers from different stations of Dhanbad Chandrapura Railway line as well as those travelling frequently between Dhanbad and Tatanagar relieved as Jhargram Dhanbad MEMU Special (08019/08020) is all set to resume its services from tomorrow.
Notably, at present the passengers running between Dhanbad and Tatanagar and vice versa have no other option other than to travel by buses or other private vehicles.
Ashish Bansal, divisional railway manager of Dhanbad Division of East Central, shared a detailed time table of the train through his official twitter handle yesterday informing that the train (08019) will begin its journey from Jhargram at 6 am, tomorrow to reach Dhanbad at 1.45 pm.
The train will be crossing different intermediate stations like Ghatshila (7 am), Tatanagar (7.50 am), Chandil (9 am), Purulia (10 am), Bokaro Steel City (11.30 am), Chandrapura (12.06 pm), Phulbartan (12.26 pm), Sonardih (12.35 pm), Katrasgarh (12.45 pm), Sijua (12.51 pm), Bansjora (12.56 pm), Baseria (13.02 pm), Kusunda (13.10 pm).
The train however will not stop at several intermediate stations including Tetulia, Tundu, Budoda, and Jamunia Halt as the railway has discontinued the stoppage of trains on these stations since October 2019 itself.
During the return journey the train will start operation from Dhanbad Railway Station at 14.15 am and reach Jhargram at 9.15 am.
PK Mishra, Public Relation officer of Dhanbad Division of East Central Railway said that the train will operate on all seven days of the week beginning from tomorrow. Notably, the train used to operate for six days a week. Its services were not available during Saturday.
He further said, that besides Jhargram Dhanbad MEMU express, another train Adra Barkakana Memu train will also be resume its service from tomorrow as the train will begin its journey from Adra at 4.55 am and reach Barkakana Station of Dhanbad Division at around 9,45 am. During the return journey the train will begin journey from Barkakana at around 2.05 pm and reach Adra at around 19.15 pm
Talking to Telegraph Online today, Ranjit Kumar, a resident of Katras said, "With Jhargram Dhanbad MEMU train resuming its services, the residents of Katras and Baghmara along those travelling between Dhanbad and Tatanagar will heave a sigh of relief. Lack of trains has left us with no option but to travel in buses which are expensive as well as unsafe."