Jamshedpur: Not enough takers for Corbevax, low turnout of Covid jab drive for children
To get more kids inoculated, the district health department has decided to persuade functionaries of school management through Zoom calls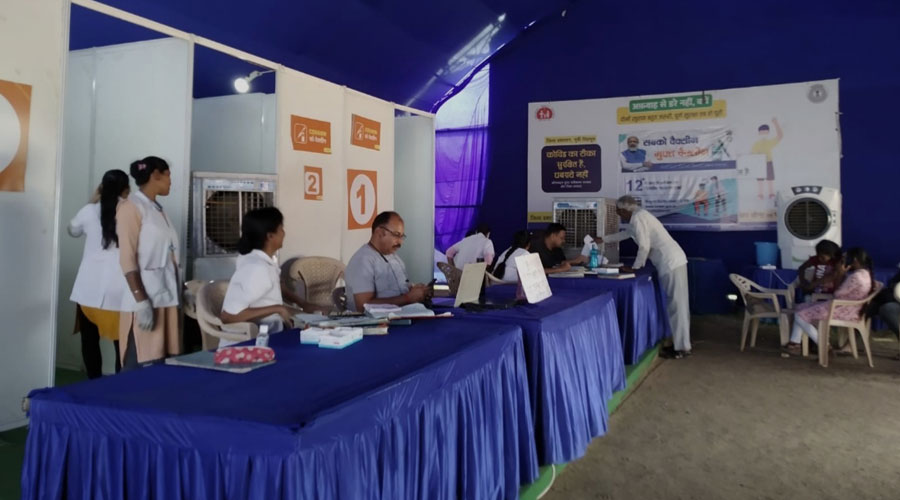 An almost empty vaccination center at Keenan Stadium in Bistupur on Wednesday.
Picture by Animesh Sengupta
---
Jamshedpur
|
Published 27.04.22, 06:28 PM
|
---
With the fourth Covid wave hovering in the sky, vaccination for the 12-14 years age group, which is considered to be the most vulnerable group, sees a very low turnout in the steel city.
To get more children in the age group inoculated, the district health department has decided to persuade functionaries of school management through Zoom calls so that they may convince them for the vaccination.
In the East Singhbhum district, over 1.65 lakh children belonging to the 12-14 years age group have to be vaccinated with Corbevax. Though the district health department has started providing the vaccine through a dozen vaccination centres in the city since March 15, a very negligible number of them has been inoculated so far.
District civil surgeon, J Manjhi stated that keeping in mind the spurt of Covid cases in several cities across the country recently and the low turnout of the children at the vaccination centres here, the district health department of late launched the vaccination drive at a number of leading schools.
"Unfortunately, there are hardly any takers of Corbevax as if the children and their parents are no longer afraid of the pandemic. Concerned with the reluctance for the vaccination, we have decided to make the school functionaries to meet through Zoom. We will get the school functionaries apprised about the seriousness and importance of the vaccine," said Manjhi while talking to The Telegraph Online.
The civil surgeon said after the second wave of the pandemic was over in August last year, the health department had expedited the vaccination program following the Covid protocol in view of the third wave.
"During that time also the people neglected to take the vaccine and when the third wave arrived, they got panicked for getting vaccinated. In other words, the people never pay heed to what is necessary when there is time to get things done and tend to get panicked when the dangerous situation finally arrives," the civil surgeon deplored.
According to sources in the district health department, the stock of Corbevax is lying unused at the department's cold storage as there are very few takers of the vaccine.
Sanjeev Verma, father of a 12-year-old boy reading in a Bistupur-based leading English school while responding to the website's query observed, "I am not in favour of getting my child vaccinated now. Who knows my son will not fall victim to some unseen disease if not infected with the Covid after getting a dose of Corbevax."