Infrastructure projects worth over Rs 8 crores launched in Jharia
Dhanbad municipal body's move aims to provide relief from perennial traffic jams and waterlogging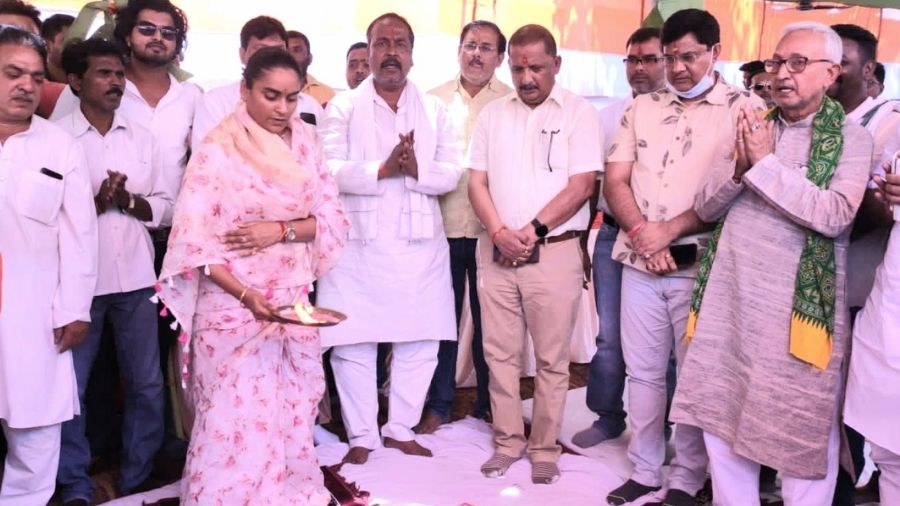 haria MLA Purnima Singh pays rituals during the bhumi pujan of development schemes at Jharia today.
Shabbir Hussain
---
Dhanbad
|
Published 08.04.22, 06:27 PM
|
---
The Dhanbad Municipal Corporation (DMC) today launched a slew of infrastructure development schemes worth Rs 8.32 crore in Jharia circle, including the road and drain renovation schemes. The move generates hopes for providing relief from the perennial traffic jams and other civic issues like waterlogging to more than 5 lakh residents of the town.
A bhumi pujan function of the development schemes was performed today near Katras More in Jharia in presence of Dhanbad Municipal Commissioner Satyendra Kumar and Congress MLA of Jhari Purnima Singh.  
Talking to the media at the sidelines of the function, Purnima Singh said, "All the existing main roads of Jharia market area including, Katras More – Lakshminia More- Bata More- Taxi Stand to Indra Chowk road besides Telephone exchange road would be repaired under the scheme which will be completed within a year."
"A crucial road connecting Dukh-Harini Dham temple of Jharia with Bata More in Jharia passing through Barfkal would also be repaired under the scheme. This road is quite crucial in offloading the traffic from the Katras More to Bata More road," said Singh.
Notably, the Katras More to Indra Chowk road passing through Lakshminia More- Bata More and Taxi Stand is lying in bad shape and a huge traffic load over the road further leads to perennial traffic problems in the area.
The situation of the other road connecting Dharmshala road to Telephone Exchange road is the worst as it faces regular traffic jams near the Matri Sadan Hospital in Jharia.
The large drain situated on the sidelines of the same road also faces a regular overflow of drain water due to the deposition of silt. The situation turns worse during the monsoon when drain water enters into the houses of the common people.
"Besides launching the infrastructure development work, we will also take up steps to improve the water supply situation in Jharia as per district level meeting held under the chairmanship of Deputy Commissioner, Sandip Singh," said Singh and added that besides ensuring regular water supply through civic body, Jharkhand Mineral Area Development Authority (JMADA) they would be also ensuring water supply with the tankers of BCCL.
Satyendra Kumar, Dhanbad Municipal Commissioner said that the existing road in the Jharia market area will witness a complete revamp after the completion of the project in a year. It will also help to cope with the traffic congestion problem to a great extent.  
"We have already taken a host of measures to improve the water supply in Jharia too," said Kumar.