In water war, RMC tanker saviour
45-strong fleet supplies lifeline at 263 points in Ranchi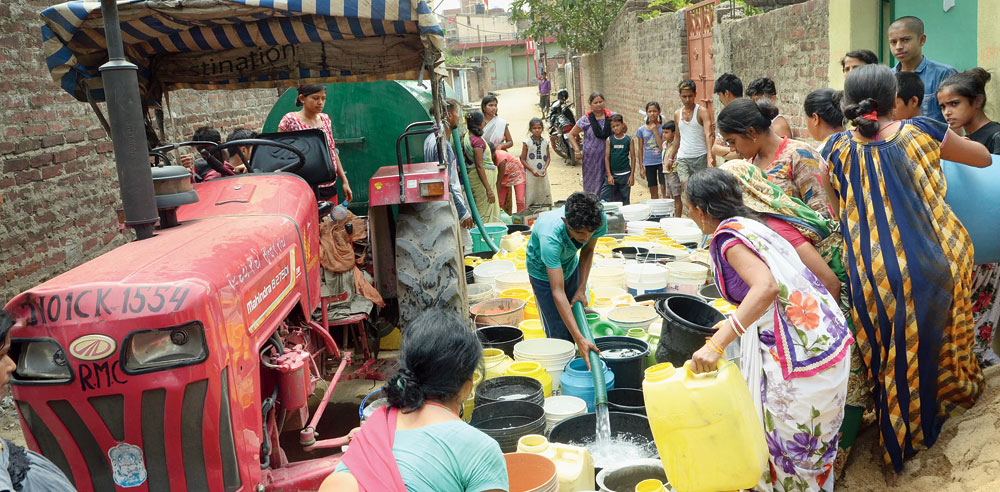 Residents of Swarnjayanti Nagar in Ranchi collect drinking water from an RMC tanker earlier this week
(Prashant Mitra)
---
Ranchi
|
Published 29.05.19, 06:34 PM
|
---
The civic body is compelled to supply free water in 45 tankers at a whopping 263 points in the capital, a shocking reality check of the crisis in the capital in summer.
Most hand pumps in the city could not draw water, the groundwater level has fallen, an official of Ranchi Municipal Corporation told this paper, when asked why water had to be distributed through tankers at so many points.
RMC assistant medical Dr Kiran Kumari said the number of such points was 150 around April 20 but had risen to 263 now. Severely affected areas include settlements around Ranchi Hill (ward 28), Harmu (ward 26), HEC Township and Jagannathpur (wards 37, 38 and 39) and Piska More (wards 32 and 34), Dr Kumari, who has been tasked with ensuring water supply through tankers, said.
She added that at every point, water is supplied through tankers on a specific time that is known to the locality residents. "In case of an emergency call at our office, we supply water within an hour. This situation will continue till June-end, when monsoon arrives, and we taper off the supply gradually. We are ready to handle the situation," she said.
The RMC has 45 tankers for free water supply, including those with capacities of 2,000 litres, 4,000 litres, 6,000 litres and 9,000 litres. Over 120 persons have been deputed for the job.
Asked from where tankers get water, Dr Kumari said: "There are nine hydrants across the city from where water is filled in tankers. The places include Harmu, Bakri Bazar, Latma Hill, Chandni Chowk, Doranda Bazar, Karbala Chowk, Booty More, Sahajanand Chowk and Vidya Nagar."
She said that at these 263 points, water was provided free of cost for just basic needs. "But, if anyone needs water in huge quantity for say, a marriage function or some big event, we have a paid system. One can call up 7360039694 at the Bakri Bazar office of RMC to book water. Our agency Spin and Orbit Water Supply, with three tankers, is outsourced for this paid service."
How did things come to such a pass in Ranchi?
Munna Choudhary, a resident of Irgu Toli, which is near Ranchi Hill (ward 28) said life would be tough if civic authorities did not supply water. "Most hand pumps have dried up. Homes with boring are getting a limited amount of water. RMC water tankers are the only succour," Choudhary said.
Water woes have not spared the affluent, who have boring at homes. Mukesh Kumar Agrawal, chairman of traffic subcommittee of Federation of Jharkhand Chambers of Commerce and Industries (FJCCI) , said getting a full tank of water had become a dream for last 15 days. "We just get half feet of water in our 2,000-litre water tank," said Agrawal from his double-storey house at Indrapuri.
For the aam aadmi, it is far worse. Piska More (ward 32) resident Deepak Sahu said their day started and ended with water worries. "We buy bottled drinking water and go to relatives' places in Kanke to bathe," Sahu said.
Gopeshwar Mahto of Jagannathpur had the last word. "In summer, we realise the importance of water and the need to conserve it. What do we do the rest of the year?"