In search of ancient wisdom
3-day conference on tribal philosophy kicks off in Ranchi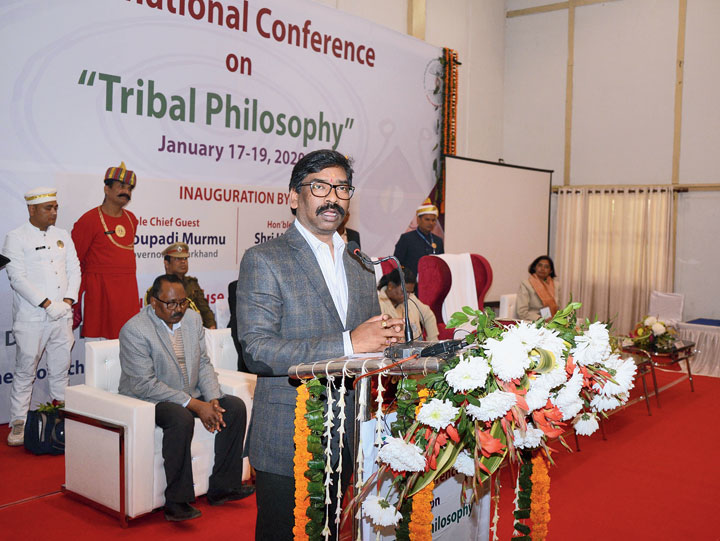 ---
|
Ranchi
|
Published 17.01.20, 07:32 PM
---
Tribal philosophy is in essence the wisdom of the tribes that is passed on from one generation to the next and needs to be preserved in order for it to gain recognition as an established world view, governor Droupadi Murmu said at the inaugural session of a three-day international conference on tribal philosophy here on Friday.
"Adi darshan, as the tribal philosophy is known, is all about the tribals' love for wisdom— the way they have been perceiving life and world since the beginning of mankind," she said at the conference being organised by the state tribal welfare department and Ram Dayal Munda Tribal Welfare Research Institute at Audrey House.
Murmu was the chief guest at the event— a first of its kind in the state if not in the country, aimed at exploring whether there could be a body of knowledge that could be referred to as tribal philosophy.
The governor said the wisdom needed to be gleaned from sources such as oral tradition and tribal folkore and preserved properly.
The conference was attended by 200 people, including scholarsm from across the country and abroad.
"Tribal philosophy is a broad topic and understanding and preserving it properly is a huge challenge," chief minister Hemant Soren, who chaired the inaugural session, said.
"Tribals may constitute just around 5 per cent of the world's population, but they comprised 15 per cent of the world's poor," he pointed out, adding that the tribals preferred a life full of atma-prakriti-paramatma and the development process should never be insensitive towards this feeling.
"Let this conference be a milestone in search of the real tribal identity," Hemant said and urged the participants to ponder over various aspects associated with the theme.
According to the concept note of the conference, the world view of a community is its philosophy and that of the tribals would have to be constructed from legends, folk lores, beliefs, attitude and disposition.
"Our god is formless and omnipresent, our house is the temple and our way of life is the ritual," said Bijoya Sawain from Meghalaya, about how the Khasi tribe looked at their philosophy.
Honour is of paramount importance in their life, she said at the first of the dozen technical sessions.
Kyntiewbor Sohtun narrated a Khasi legend outlining the origin of mankind.
"Sixteen families descended like a human bridge on a golden ladder and one stayed back, doing farming," he said about the origin of their tribe and how it survived.
"People lived with nature harmoniously so much so that they believed that man and beast were interchangeable," said Dutch professor Paul Streumer, who worked on the Ho tribe of Jharkhand.
He said over a hundred years ago, the cause behind an ailment would be traced to spirits.
Narrating an over 100-year tale that was popular in a village in Chaibasa, he said: "The villagers believed a man morphed into a tiger and ate the goats of his neighbours."