In Palamau, nervousness the order of the day during dry run
Recipients cannot change vaccination centre for second dose, explains civil surgeon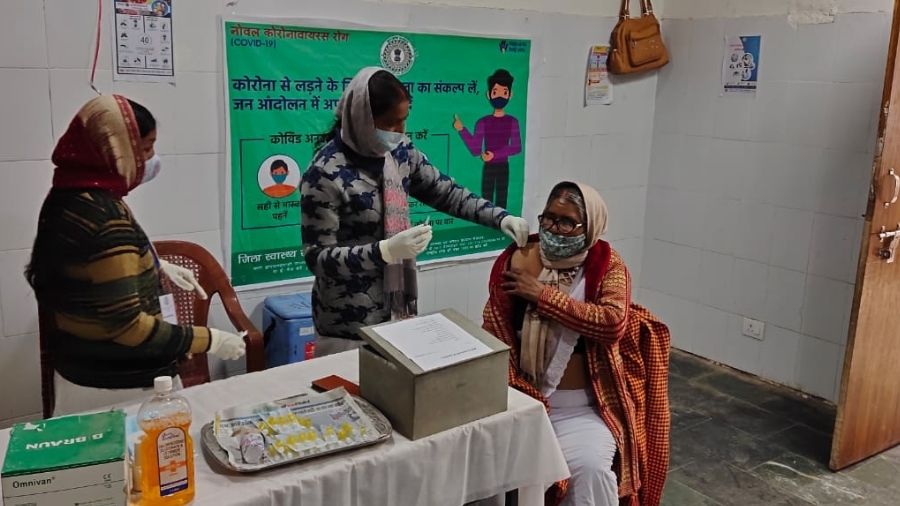 Nurses during the dry run at Medinirai Medical College and Hospital in Daltonganj on Saturday.
Telegraph Picture
---
Daltonganj
|
Published 02.01.21, 07:02 PM
|
---
At Medinirai Medical College and Hospital, as the nervous nurse held the syringe during the dry run for administering a vaccine on Saturday, the health officer asked her to hold it straight, and at a right angle to the arm of the woman health worker who was posing as the recipient.
She got it right immediately, and admitted she was a bit uneasy because of the presence of a large number of officials, including civil surgeon John F Kennedy and district reproductive child health officer Anil K. Singh.
Chhaterpur sub-divisional hospital, 48km from here, was the second venue in Palamau where the dry run was held under the supervision of medical in-charge R.K. Agarwal.
Deputy commissioner of Palamau Shashi Ranjan said, "The dry run has enabled us to know where we need to concentrate more during the vaccination drive. We have asked for a wall clock at every observation room so that we can make a note of the time a beneficiary is vaccinated before he is made to wait there for half an hour."
At Medinirai, the nurse's nervousness was contagious. As health worker Santosh Kumar sat before the vaccination desk, he saw the nurse getting ready with his injection. The man in all seriousness asked her to ensure there was "no air bubble in the syringe" before she administered the dose.
Santosh thought he was getting his first dose of the real vaccine. When told this was a dry run, he seemed relieved and willingly rolled up his sleeves to facilitate the mock jab. After that he went to the adjacent observation room to wait for the regulation half hour.
Deputy commissioner Shashi Ranjan said it was natural for people to be apprehensive. "In any case, people generally fear injections. In case of the coronavirus shot, so many half-baked ideas are being circulated, it is natural that people will be worried," he said.
Later, Ranjan inspected ice lined refrigerators and cold chain facilities. District reproductive child health officer Anil K. Singh said with the given infrastructure, Palamau could store 8,500 doses of the coronavirus vaccine. 
Civil surgeon Kennedy explained that a vaccinated individual would have to come back to the same centre after 28 days for his/her second dose. "Vaccinated individuals cannot change his/her immunisation centre," he said.