IIT (ISM) students carry out protest against offline exams
Protesters cite example of other IITs, administration stands firm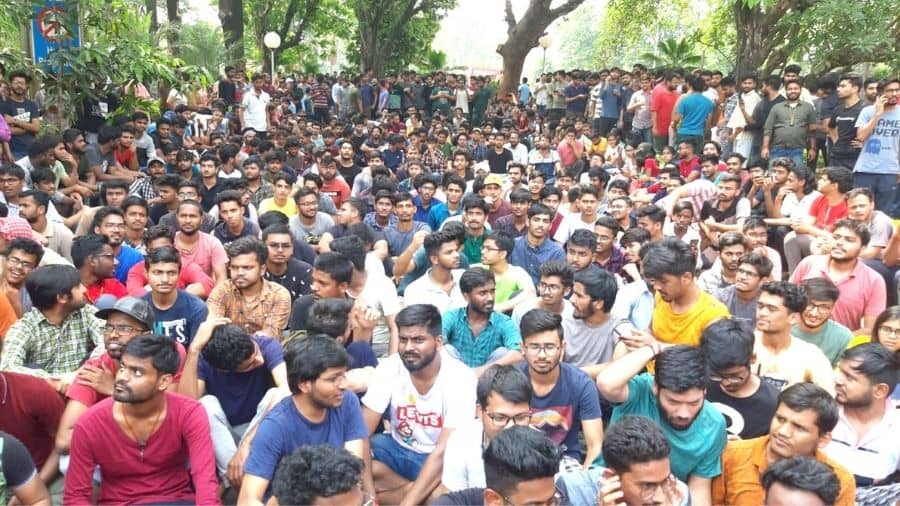 Students of IIT(ISM) staging dharna at their institute premises in Dhanbad
Gautam Dey
---
Dhanbad
|
Published 22.03.22, 05:25 PM
|
---
Irked by the IIT (ISM) administration's plan to conduct offline mid-semester exams from tomorrow, more than 200 students carried out a protest by staging Dharna outside the administrative block of the institute in Dhanbad.
The protesters, comprising of B Tech, M Tech, Junior Research Fellowship (JRF) and PhD students, resorted to Dharna and slogan-shouting after their talks with the institute administration led by institute Director, Rajiv Shekhar failed this morning.
Taking strong objection to the protest of students, the institute administration meanwhile warned of strict action against the students terming their protests as an act of indiscipline, and deputed more than 150 security personnel of the institute at the Dharna site.
IIT (ISM) Director, Rajiv Shekhar while talking to media said, "As the pandemic situation has improved there is no meaning of protesting against the offline exams."
The administration further claimed that all the students were informed about the offline exams much ahead, so carrying out a protest at the eleventh hour is illogical.
A  B Tech 3rd year student, requesting anonymity however told The Telegraph Online, "There is no logic of holding offline exams when the classes have been carried out through the online mode."
He further cited examples of other IITs like IIT Kharagpur and IIT Patna, saying they are holding online semester exams then the insistence of the IIT (ISM) Dhanbad administration to hold offline exams is incomprehensible.
Another protesting student of B Tech 2nd year claimed, "Majority of students of 1st and 2nd year who have not attended offline classes due to institute remaining closed for around 22 months will face difficulty in appearing for the offline exams."
Tendering more logic for protesting against the offline exams, he said, "The offline exams will greatly impact the placement prospects of 1st year and 2nd year students as many of recruiters scrutinize the students for appearing in placement interviews on the basis of Grade Point Average (GPA) and as soon as the exams shift to offline mode the weightage for semester exams will increase from 50% to 100% for calculating the GPA."
"As 1st year and 2nd-year students couldn't attend the offline exams due to institute closure during the pandemic, their performance may be affected during offline exams further affecting their GPA which in turn will affect their placement prospects," further said the agitator requesting anonymity.