Heritage hurrah & hopelessness
Funds fillip for century-old zamindari relic after a year, but British architecture trips on power play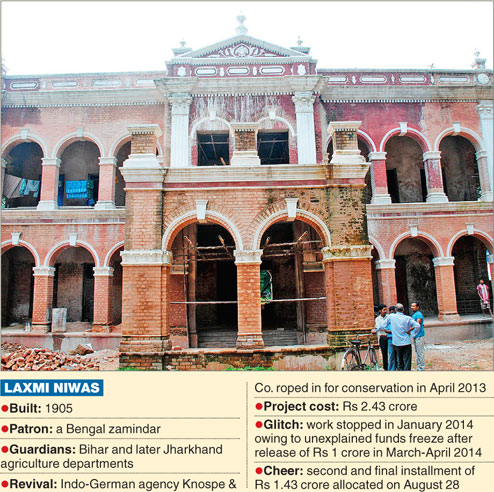 ---
Published 29.08.15, 12:00 AM
|
---
HIT AND MISS IN CONSERVATION CHALLENGE
Good news for Laxmi Niwas. Bad news for Audrey House.
The century-plus historical edifices in the heart of Ranchi - the first raised by a Bengal zamindar and the other by a British deputy commissioner of Chotanagpur - have languished in neglect for decades. While conservation funds clearance has now rekindled hopes for Laxmi Niwas, Audrey House seems to be destined to indefinite darkness.
Having faced financial drought for a year, which completely grounded restoration efforts at Kanke Road's Laxmi Niwas, the building construction department's Ranchi circle on Friday received allocation letter for the pending Rs 1.43 crore from the state agriculture department.
Located near Kanke Road, neighbour Audrey House, which after four years of red-tapism witnessed some comprehensive conservation work, is now awaiting power connection for months for a formal launch.
Speaking to The Telegraph on Friday, executive engineer of building construction P.K. Singh said he had already contacted officials at Knospe & Co. - the Indo-German agency hired for Laxmi Niwas conservation - for resumption of work. "The total project cost is Rs 2.43 crore, out of which Rs 1 crore was released in March-April last year. We hadn't received a single penny after that and the agency had stopped work. If all goes well now, the project will be completed by December-end," he added.
Laxmi Niwas, a red brick architectural wonder, was built by the zamindar in 1905. Later, the 10,000sqft, double-storey building was taken over by the agriculture department in undivided Bihar. When Jharkhand was born in 2000, Laxmi Niwas was inherited. But, it took the state agriculture department 13 years to put the building in restoration mode. That was April 2013.
If an official earlier associated with the project is to be believed, as of August 2015, more than 70 per cent work is pending, which primarily includes conservation of the crumbling interiors of the building. "Things weren't in our hands without funds. The agency will step up work now," Singh promised.
Cut to Audrey House.
Built in 1854 by then deputy commissioner of Chotanagpur Captain Hannyington, it used to be an extension of the governor's secretariat under the British and also housed offices of several government departments when Ranchi was the summer capital of undivided Bihar. Thereafter, it suffered utter neglect, prompting the building construction department to label it "condemned".
In 2009, a Rs 5-crore revival plan for Audrey House was first sounded, but actual work on the ground began only in March 2013 with an expected completion time of a year. According to plan, the single-storey Audrey House, sprawling over 30,000sqft, was to be converted into a culture hub, complete with art galleries, a documentation centre, an open-air theatre for 600 and a tribal museum.
Two years down the line, project officials claim more than 90 per cent conservation work is over for Rs 7 crore, but formal launch is being hindered by lack of electricity. Executive engineer Singh said over a month ago, he had written to the art and culture department and Raj Bhavan for power support, but didn't get any response till date.
"Conservation of building and landscaping of premises are over. All we want is power to test the 100-tonne central air-conditioning system and firefighting apparatus among other installations. Once there is electricity, we can do the test runs and hand over the property within 15 days," Singh said.
An insider in the art and culture department exposed the poser. "The kind of systems installed at the renovated Audrey House will invite a monthly power bill of Rs 3-4 lakh. While Raj Bhavan owns the property, the department is reviving the building. A meeting is expected soon to decide who will foot the bill."