Hemant Soren launches new projects at Budha Pahar
Ambitious 100 crore project outlay will cover the building of roads and critical infra and saturation of welfare schemes for local population, says senior official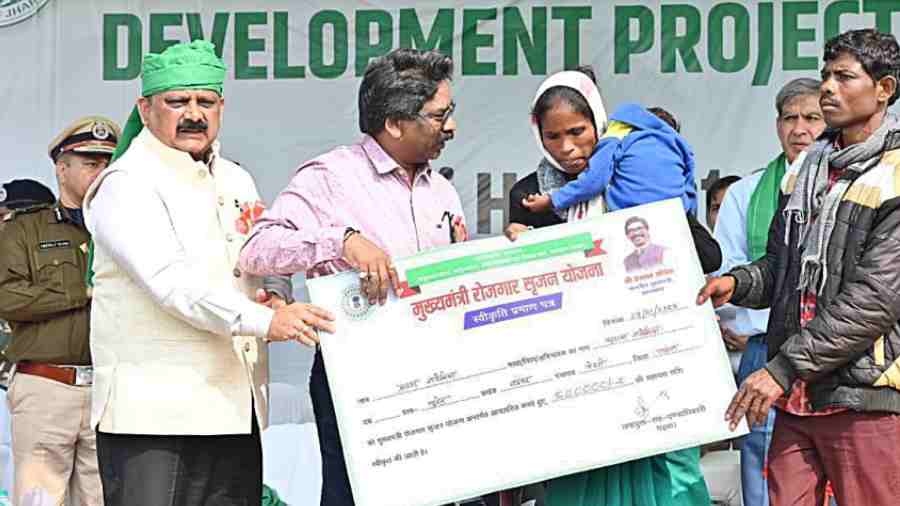 Hemant Soren distributes assets as part of government schemes to villagers at Budha Pahar on Friday.
Picture by Bhola Prasad
---
Jamshedpur
|
Published 28.01.23, 04:36 AM
|
---
Hemant Soren scripted history by becoming the first chief minister of Jharkhand to visit once Maoist citadel and training centre at Budha Pahar bordering Chhattisgarh on Friday afternoon.
Soren, who is heading a JMM-Congress-RJD alliance government in Jharkhand, reached the security camp on the hilltop of the Budha Pahar (a hilly area surrounded by dense forests spread in Latehar and Garhwa districts of Jharkhand), over 300km from capital Ranchi (by road route) along with senior bureaucrats and senior police officials and launched 175 schemes under the first phase of Budha Pahad Development Project (BPDP) worth Rs 5.279 crores.
"The ambitious 100 crore project outlay will cover the building of roads and critical infra and saturation of welfare schemes for the local population.
"The chief minister also handed over enrolment letters to citizens covered under various state-run schemes like Chief Minister Employment Generation Scheme (CMEGP), Savitribai Phule Kishori Samriddhi Scheme, Pashudhan Yojana, Sarvajan Pension, and Green Ration Card," said a senior official in chief minister's secretariat.
"For long disturbing elements created fear psychosis not only among masses but also among security personnel and also exploited and misled the innocent tribal populace of the area. I have come here for the first time but the problems narrated by the people are known to me. Our government is serious on linking all the villages in the area with welfare schemes," said Soren addressing villagers and officials at Budha Pahar.
"It is a small beginning and the results can be seen at the ground level in the coming six months. I would like to assure the locals that if required the government can also spend Rs 500 crore for the development of this area.
"Our topmost priority is to ensure proper drinking water facility and road facility for the masses," said Soren after listening to grievances of the locals and interactions with senior security officials at the site.
Significantly, under the ambit of BPDP, 11 villages of Tehri Panchayat of Garhwa and 11 villages of Aksi Panchayat of Latehar are to be fully developed.
Thrust shall be given for financial independence of the residents besides providing basic amenities like housing, ration, pension, health, education, safe drinking water in saturation mode. Focus on infrastructure development such as roads, schools, buildings, anganwadi centres, irrigation facilities apart from host of other things," added the official in CM secretariat.
Incidentally, Budha Pahad has long been a Maoist citadel and security agencies had claimed that rebels underwent training in safe havens of the hills migrated to Chhattisgarh and were responsible for ambushes in the Sukma area.
The area in September 2022 was declared freed from Maoist control and a police camp was set up on the hilltop. The flagship Sarkar Aapke Dwar campaign was also held during the month of November, 2022 in Tehri Panchayat covering over 6000 villagers.
DGP Jharkhand Neeraj Sinha said that security forces have sanitised the approach roads elaborately so that no IEDs are found planted on them.