Hemant promises 30,000 jobs in six months
Chief minister hands over govt offer letters to over 1,400 beneficiaries in Dumka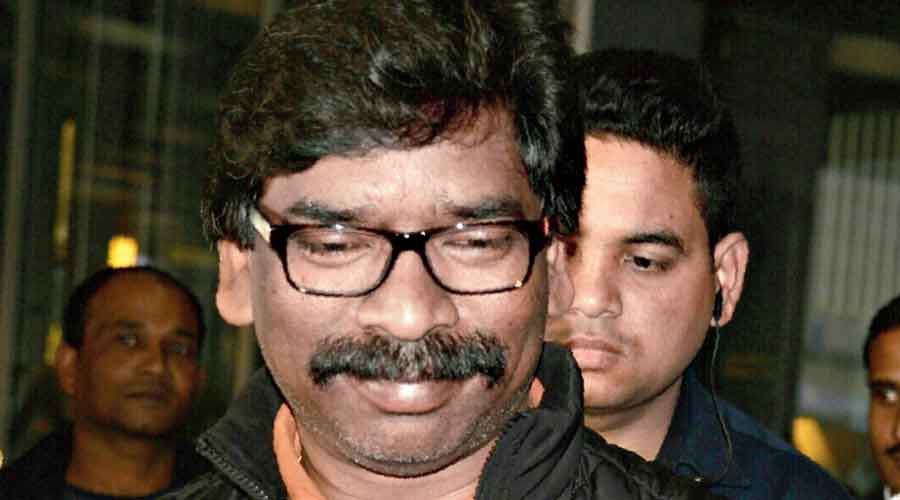 Hemant Soren
File Picture
---
Ranchi
|
Published 08.12.21, 07:55 PM
|
---
Jharkhand chief minister Hemant Soren on Wednesday handed over appointment letters to at least 1,423 local residents  recruited at different levels by the government and promised employment for at least 30,000 others in the next six months.
Addressing an event under the state government's flagship welfare campaign, "Aapke Adhikar, Aapki Sarkar, Aapke Dwar" at Police Line in Dumka, Hemant said his government has incorporated several changes in the recruitment process in a bid to ensure jobs to local residents of Jharkhand.
The state government, Hemant said, has maintained its stand of reserving 75 per cent of jobs for locals even in private companies and decided to provide loans of up to Rs 25 lakh on subsidy for business ventures in the state under the Chief Minister Employment Generation Scheme.
"We have even made changes in the rules for police recruitment. Now, physical tests will be conducted first, and then the aspirants will appear for written tests," said the chief minister.
Highlighting the importance of the government's Aapke Adhikar, Aapki Sarkar, Aapke Dwar campaign, Hemant said that several beneficiaries from far-flung villages of Jharkhand had to visit district headquarters or Ranchi in order to get benefits of various schemes, and often decided to give away their benefits because of the tedious process which included a lot of travelling to urban clusters.
"Now, our government will go to your doorstep and ensure that all beneficiaries get their dues. Since 80 per cent of our state's population live in villages, it is imperative to focus on the welfare of villagers. If villages develop, then automatically panchayats, blocks and districts will see the horizon of development," said Hemant. 
The Aapke Adhikar, Aapki Sarkar, Aapke Dwar campaign, a 45-day programme aimed at ensuring the benefits of various government schemes to the people of the state, was launched on the birth anniversary of freedom fighter Birsa Munda on November 15 at his native village Ulihatu in Khunti district.
Addressing the gathering in Dumka on Wednesday, Hemant said that the government was working on ways to provide employment to the local youths. For the first time, the appointment rules of various departments were made, he said, adding that measures had been taken to give preference to tribals and natives in government jobs.
During the ceremony, assets worth over Rs 1,127 crore were distributed among 28.45 lakh beneficiaries of six districts under Santhal Pargana division under various government schemes.
Parliamentary affairs minister Alamgir Alam and MLAs from various Vidhan Sabha constituencies in Santhal Pargana also attended the event.