CM announces unmployment allowance for youths
Hemant govt to reserve 75% jobs for locals in private sector
CM also announces annual unemployment allowance of Rs 5,000 for skilled youths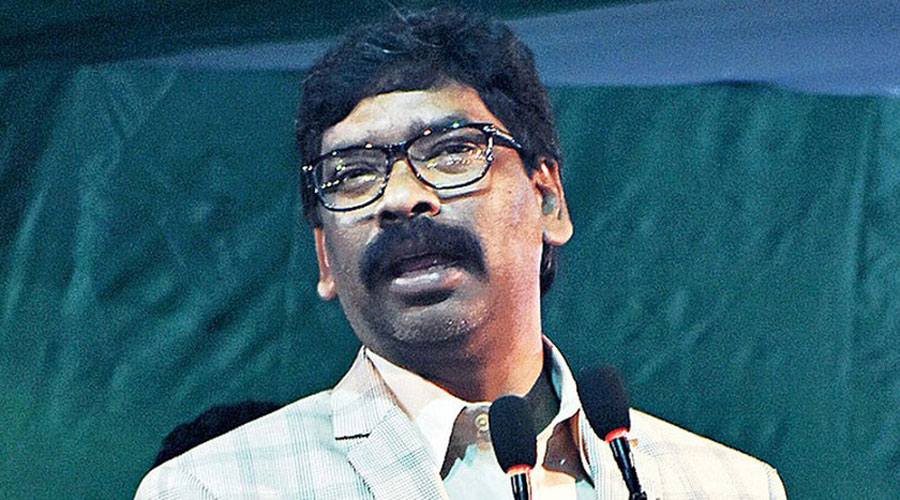 Hemant Soren
File Picture
---
Ranchi
|
Published 15.03.21, 08:19 PM
|
---
The JMM-Congress-RJD government of Jharkhand has decided to reserve 75 per cent jobs in the private sector for local residents, following a policy similar to that adopted by the BJP government of Manohar Lal Khattar in Haryana amid mildly sceptical reactions from industry associations.
Chief minister Hemant Soren announced his government's plan, which he said would be rolled out formally soon, in the state Assembly on Monday when the ongoing budget session resumed after a four-day break. He also announced that his government would be providing an annual employment allowance of Rs 5,000 to skilled youths who failed to get jobs. For widows and the disabled, the unemployment allowance would be Rs 7,500.
"Our government is now heading towards fulfilling the poll promises we made to voters during the 2019 Assembly elections. We had promised jobs to locals and we have decided to go ahead with it by reserving 75 per cent jobs in the private sector to the people of this state. Those without jobs will be given an unemployment allowance," he said in the Assembly amid rousing applause from the Treasury benches.
Hemant also said that the government would be giving compensation of Rs 1 lakh to the next of kin of those who die in road accidents.
Speaking to the media outside the House, Hemant said, "Unemployment allowance is just a small gesture from the state government to keep youths motivated amid the pandemic. We had already said that this year will be dedicated to jobs. We are trying to provide as many jobs as we can through direct recruitments and by creating different avenues to generate moreo pportunities cutting across public and private sectors."
An official of the labour department said job reservations in the private sector would be implementd once a law to that effet was enacted. "The reservation will be for jobs offering salaries of up to Rs 30,000 per month," he said.
Industry organisations reacted cautiously, and hoped that the reservation move did not end up being a regressive step at a time when the state government was eyeing fresh investments.
Federation of Jharkhand Chamber of Commerce and Industries (FJCCI) president Praveen Kumar Jain said, "We are not against jobs to locals, but do we have enough skilled labour? The state government needs to first ensure that there isn't any scarcity of skilled labour required for various sectors. Otherwise it will pose hurdles in getting the right investments."
An official of Jharkhand Small Industries Association (JSIA) was equally sceptical of the policy. "What is the criteria of being a local? Will someone who hails from Odisha and is working in my company for the last 20 years be called a 'local'? If not, where will I get a proper substitute to his/her skill level? The government must define this without any ambiguity first," he said.