Helping hand for sporting kids
Outfit trains & motivates in studies, soft skills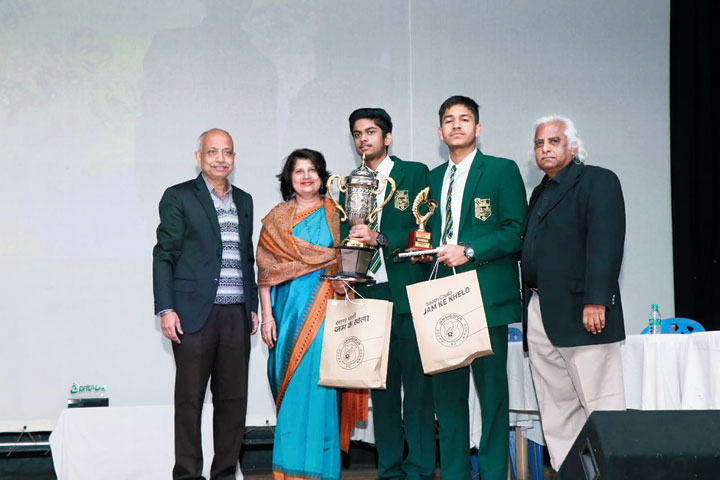 Spardha members and principal of Motilal Nehru Public School Ashu Tiwary (second from left) at the school last week.
Telegraph picture
---
Jamshedpur
|
Published 17.01.20, 07:33 PM
|
---
If a child is good in football and weak in science, usually, an Indian parent will scout for a science teacher instead of a football coach.
But what if the child can have both?
A unique Jamshedpur-based organisation, Spardha (Daring) trains and motivates sporting talents, many from humble backgrounds, in studies, soft skills. Currently, Spardha works with over 60 youngsters, primarily from the Tata Football Academy (TFA), the Tata Archery Academy (TAA) and Tata Steel Adventure Foundation (TSAF, for rock-climbing students). Volunteers of Spardha talk to sports outfits on what the children, who're talented in sports and also pursue schooling simultaneously, need. Someone might need help in maths, someone might need help in figuring out the best time to study between long hours of practice.
N. Mohan, one of the founders of Spardha and a retired Tata Steel employee, told The Telegraph: "Our volunteers just try their bit to lessen the burden for students and help them become well-rounded individuals."
The three other founders Amit Modak and Gyanendra hail from Tata Steel while Kamlesh Thakkar works with XLRI. Mohan added that Spardha regularly helped seven students with academics. Many TAA and TFA cadets seek help from Spardha in communication and teamwork as well. "These are adolescents and teenagers who stay away from home and have a high-pressure regimen. They often want guidance on things other than academics."
Spardha has been working in this field for two years. Recently, they organised sports quizzes and debates in schools. "We held Sportacus, an inter-school quiz to promote sports as a career option, at Motilal Nehru Public School recently. Little Flower School won it and Kerala Samajam Model School came second. The enthusiasm was great," Mohan said.
Principal of Motilal Nehru Public School, Ashu Tiwary, praised the initiative. "A sports quiz is a rarity in a city like Jamshedpur. I am happy that Spardha has taken up this issue. With initiatives like these, children who love sports will feel motivated to pursue their dream," she said.
Mohan said their next step would be holding workshops and counselling sessions with coaches and sports professionals for parents to allow and encourage their children to follow sports as a career.
"Parents are risk-averse. So they want children to excel in academics and have a safe, well-paying career. But the world is changing and parents need to realise a child will do best in what he loves," Mohan said.