He runs two schools to help poor kids chase a dream
BCCL employee gives free education, uniforms & books to children of coal pickers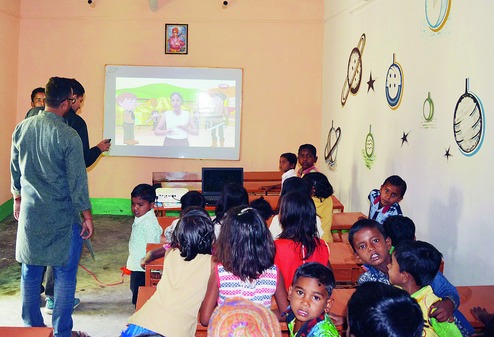 ---
|
Dhanbad
|
Published 12.03.18, 12:00 AM
---
Dhanbad: Chanda Kumari, 9, daughter of coal picker Ramesh Bhuian of Khilan Dhaur in Katras, used to pick coal with her father even in February. But now, the girl wears a uniform and a big grin as she sits in class with her new textbooks.
Chanda is not alone. 59 others of her locality have also started studying this month at a new free school, Pathshala, at Bhaga Basti, which opened on February 19.
The man behind this school is Dev Kumar Verma, 33, assistant manager (sales and marketing) in BCCL who got this school running with help from wife Priyanka, an assistant professor at BIT-Sindri, and school friends UP cadre IPS Kirti Mohan, Indian Railway Service official Avinash Kaur and Indian Foreign Service official Shruti Pandey.
In 2015, he started the first Pathshala in Katras Bazar from playschool to Class V with 60 students from poor homes, the number of which has risen to 100 now.
Why another Pathshala?
At the Bhaga Basti branch, most students come from coal picking families of Jogidih, Bahiardih and Khilandhaura localities of Katras, said Verma. Though he did not say so, the poor parents are illegal coal pickers.
"I wanted these children to know they could have more choices in life," he said.
It is not easy to run two schools, but Verma, who personally spends over Rs 30,000 every month to pay the salaries of five teachers, books and stationery, believes he is chasing a bigger dream.
"My father was a BCCL group D employee, late Rajendra Sonar. He brought me up simply but with the right values. After my MBA from NIT-Durgapur I bagged a job in Coal India in 2010 and came to BCCL in 2014. But, I knew I had to do something for the less privileged. Luckily, Priyanka shares my mindset and my friends chip in whenever I need money for this venture," he smiled.
For the Bhaga Basti school, they used the building of Verma's old single storey home, spending some Rs 5 lakh on renovation, in which his friends helped.
Now, classes are held at Katras Bazar and Bhaga Basti Pathshalas from 8.30am to 12.30pm. Sundays are meant for digital class. In winter, timings will be 9am-1pm.
What's next? "In the coming years, I am sure some kids will shine and want to keep studying. It's my plan to educate the best students in a residential school till Plus Two," said the dreamer who's also a doer.
Do you think our society needs more Good Samaritans like Dev Kumar Verma? Tell ttkhand@abpmail.com