Half of RIMS Covid beds free as cases fall
Patient numbers down, private hospitals report availability too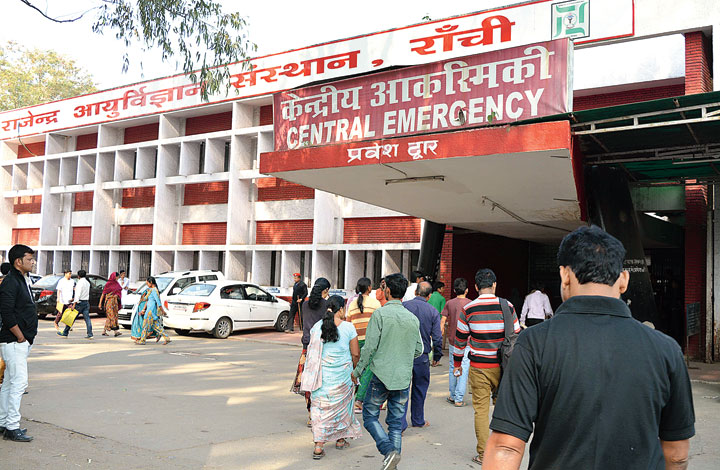 Rajendra Institute of Medical Sciences (RIMS) in Ranchi.
Telegraph picture
---
Ranchi
|
Published 03.11.20, 06:04 PM
|
---
More than half of the dedicated Covid-19 beds at Jharkhand's premiere state-run hospital are unoccupied after a significant drop in the number of active cases in the state capital, doctors treating patients at the Covid care centre of Rajendra Institute of Medical Sciences (RIMS) said on Tuesday.
The co-ordinator of the Covid-19 task force at RIMS, Dr Prabhat Kumar, said at least 125 of the 218 Covid beds at the hospital were free. Of the 22 ICU beds for Covid patients, around 16 were occupied, he added.
"Around a month ago, we could not even provide beds to all Covid patients who came for treatment. There was 100 per cent occupancy, and a long waiting list for patients on most days," said Kumar. "The number of patients has drastically reduced in the past one week or so," he added.
Dr Kumar, who has been spearheading the team that manages and treats Covid patients at RIMS, said the severity of symptoms had also reduced among patients lately.
"Earlier, we had more cases with severe symptoms. Now, most of the patients are either asymptomatic or have mild to moderate symptoms," said Kumar.
The demand for Covid beds has reduced in private hospitals too. Bhagwan Mahavir Medica Superspecialty Hospital, which has 27 dedicated Covid beds, had 23 patients admitted in its Covid ward on Tuesday. However, all the 10 Covid ICU beds were occupied.
"Most of the cases that we get are referred to us from other hospitals. But around four to five beds are still vacant," said Anil Kumar, the Associate Vice President of Medica Hospital.
Paras Hospital at Heavy Engineering Corporation (HEC) opened its doors for non-Covid patients this week. The hospital was made a dedicated Covid care centre by the Ranchi district administration four months ago, when there was need for more dedicated Covid beds.
The number of Covid patients has reduced in Ranchi in the past couple of months, highlights government data. As per latest figures with the health department, as many as 1,697 people were battling the virus in Ranchi on Tuesday. The district reported nearly 26,000 cases of infection and over 90 per cent of the patients recovered. Exactly a month ago, on October 3, there were 3,325 active cases of Covid infection in Ranchi. As per figures compiled by the health department, Ranchi accounts for 32 per cent of the 5000-odd active cases in Jharkhand.