Green light for signals
Mayor Chandrashekhar Agarwal said the signals would be put up at 16 places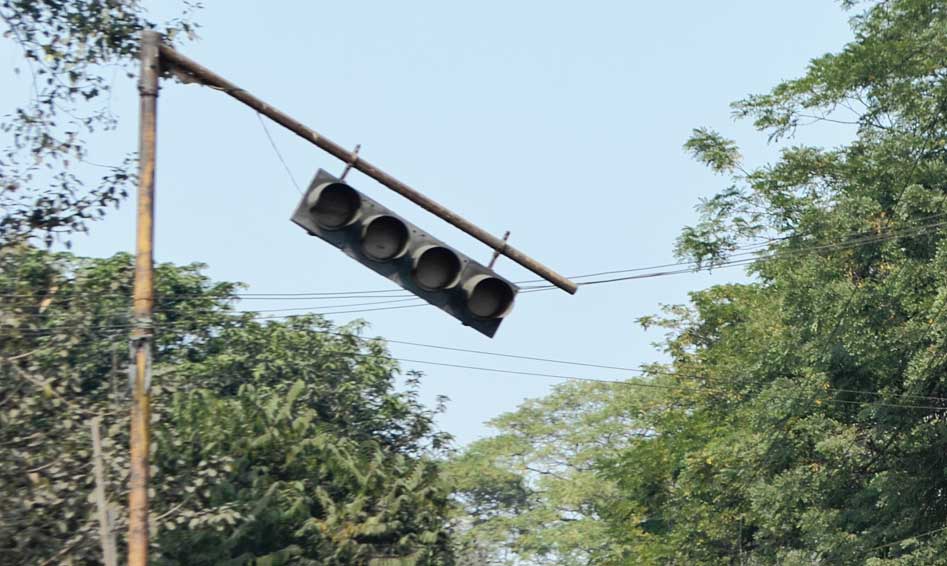 Defunct traffic lights at Puja Talkies Chowk in Dhanbad.
Picture by Shabbir Hussain
---
Dhanbad
|
Published 20.01.19, 06:41 PM
|
---
Dhanbad Municipal Corporation (DMC) has decided to install traffic signals at 16 busy locations across the district to streamline vehicle movement.
Hunt for the agency, which will design, supply, install, test, operate and manage the signals, has been initiated with the issue of expression of interest on Sunday.
Mayor Chandrashekhar Agarwal said the signals would be put up at 16 places — Memco More, City Centre, Shramik Chowk, Puja Talkies Chowk, Randhir Verma Chowk, Katras Bazar Chowk, Birsa Chowk, JP Chowk (both at Bank More), Karkend More, Katras Thana Chowk; Katras More (in Jharia), Steel Gate, Hirapur Hatia More, Dhansar More, Govindpur More and Indra Chowk (Jharia).
"The selection of sites have been carried out in consultation with Dhanbad police." Agarwal said, adding that the move is part of a joint effort by the district administration and the civic body to improve the traffic situation of Dhanbad.
Executive engineer of DMC S.K. Sinha said they had initially planned to install a signal near Bartand bus depot, but dropped it later once the traffic improved following the broadening of Shramik Chowk-Barwaddah road. "The signals will have power back-ups so that they can operate round the clock," he added.
Three digital traffic signals were installed at Randhir Verma Chowk, Puja Talkies Chowk and Combined Building Chowk at a cost of Rs 22 lakh in 2011 ahead of the 34th National Games. However, they hardly worked for a week due to lack of coordination between traffic cops and corporation authorities, absence of battery back-ups and faulty timer machines.
Two important arteries — the 25.71km Bank More-Sindri road and 5.5km Shramik Chowk-Barwaddah road — were widened and strengthened by the road construction department at a cost of Rs 44.83 crore and Rs 34.67 crore last year to ease traffic.
Installation of 672 streetlights on 336 poles on both these roads are being carried out at a cost of Rs 3.78 crore to improve visibility at nights.
The corporation is also planning to develop a 3.5km flyover between Matkuria to Binod Bihari Mahto Chowk at a cost of Rs 256 crore to ease traffic congestion on busy thoroughfares. Budgetary allocation for the project is likely to be cleared at the next cabinet meeting.