Governor's silence on EC a punishment, says Hemant Soren
'I feel this is the only instance in the history of the country when an accused is pleading with folded hands to the authorities to pronounce a verdict'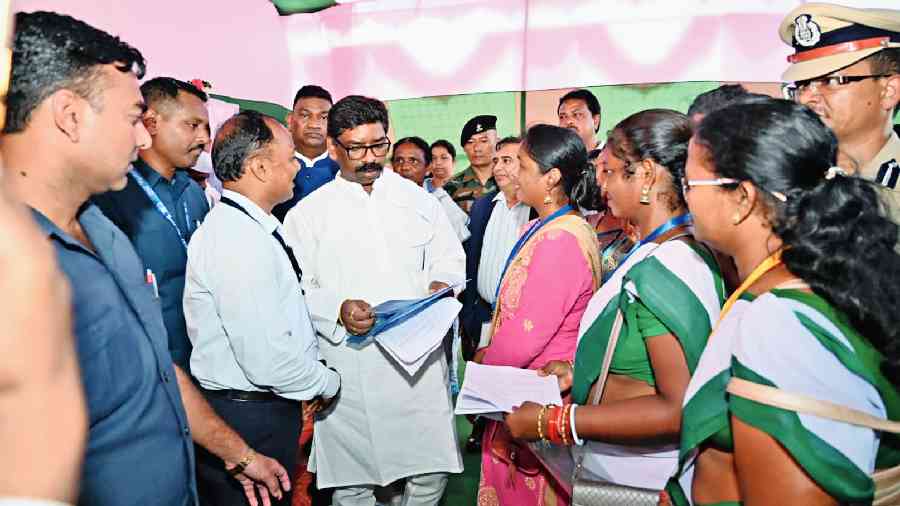 Hemant Soren at a Sarkar Aapke Dwar programme at Goelkera in West Singhbhum district on Friday
Telegraph picture
---
Jamshedpur
|
Published 18.10.22, 12:09 AM
|
---
Jharkhand chief minister Hemant Soren feels the governor's silence on the Election Commission's opinion on his reported disqualification as an MLA is a punishment.
Interacting with reporters at his residential office at Ranchi on Saturday evening, Soren said: "Jo situation main aj main hum, Mahamahim ka silence mere liye punishment se kam nahi hai" (The situation in which I am at the moment, the silence of the Governor (Ramesh Bais) is no less than a punishment for me)."
"I am being punished by not letting me know the verdict," added Soren.
"I feel this is the only instance in the history of the country when an accused is pleading with folded hands to the authorities to pronounce a verdict. If I am guilty then give me punishment. Why am I allowed to sit in the constitutional post of a chief minister? Who is responsible for such a situation in the state," he said.
Soren, who is leading a JMM-led Congress-RJD alliance government in Jharkhand after defeating BJP in 2019 Assembly polls, said: "I am waiting for the verdict. I have personally pleaded before the governor, my legal counsel have pleaded, my party has also requested and now even we have taken resort to Right to Information (RTI) to know the Election Commission opinion. But so far nothing has succeeded."
Taking a dig at three times BJP MP from Godda Nishikant Dubey, who was the first BJP leader in August to announce in his twitter handle about reported disqualification of Soren as per the poll panel opinion sent to governor, Soren said: "Only Election Commission, the governor or our BJP leaders know what the Election Commission has opined. In fact, BJP leaders knew even before the governor came to know about the opinion."
Significantly, JMM general secretary Vinod Pandey has filed RTI petition to the public information officer Jharkhand governor secretariat on October 8 evening requested to provide a copy of the ECI opinion "in relation to section 9A of R. P Act 1951 read with Article 192 of the Constitution of India in relation to chief minister of Jharkhand Soren."
Significantly, earlier in September Soren had met governor Ramesh Bais and urged him to clear the confusion prevailing in the State over the ECI's reported opinion on his "disqualification" as a member of the state legislative Assembly in connection with the office-of-profit case.
"Provide a copy of the decision of the Election Commission and provide an opportunity for reasonable hearing at the earliest so that the atmosphere of uncertainty engulfing the state, which is dangerous for healthy democracy, can be removed soon," Soren had urged the governor in a two-page letter submitted to him.
Soren had also said that the Opposition BJP in the state had been using the uncertainty to "destabilise a democratically elected government by trying to poach ruling UPA (United Progressive Alliance) MLAs".
Soren's legal team had in September also approached the Election Commission of India (ECI), seeking a copy of the opinion the poll watchdog sent to governor Bais in August on the office of profit row surrounding his mining lease.
So far Jharkhand governor has maintained silence on the ECI opinion, though there were media reports in August that ECI had recommended disqualification of Soren as an MLA.
Commenting on the Enforcement Directorate prosecution complaint before the special court in Ranchi that it had detected illegal stone mining worth more than Rs 1,000 crore in Sahibganj and adjoining areas, all controlled by Pankaj Mishra, the MLA representative of Soren in the Barhait Assembly constituency, Soren said: "If that is the case then Centre should include stone mine in major mineral category and include coal in minor mineral."
He said that federal agencies' functioning does not reflect independent functioning.
"Be it ED, CBI or any other central agencies their functioning does not reflect that they are functioning independently as they used to earlier. It seems they are being influenced by somebody," said Soren.