Government schoolteacher in Jharkhand teaches charity
Teacher distributes garments to villagers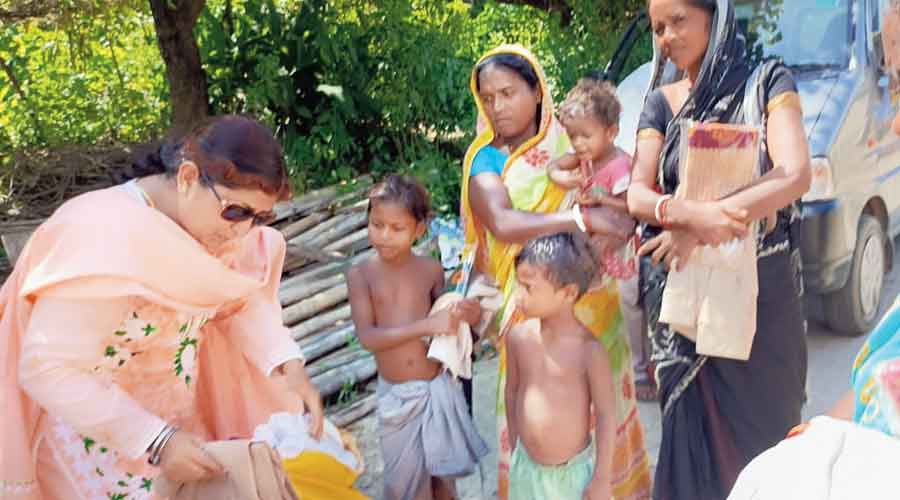 ---
Jamshedpur
|
Published 20.10.21, 12:35 AM
|
---
A government schoolteacher in Jharkhand teaches charity through his deeds to students.
A school teacher in an upgraded government school in once rebel-affected Patamda block of East Singhbhum district uses the bulk of her salary in the distribution of garments and blankets to the poor in villages close to her school.
The 43-year-old Harprit Kaur, a resident of Gurudwara Road in Mango, Jamshedpur since being deputed as a Hindi teacher in Upgraded High School Gobarghusi, Patamda in 2019 has so far distributed new and used garments (including woollen clothes during winter) and blankets in nearly six villages namely Gobarghusi, Ladaidungri, Dwaridih, Sabar Basti, Ghorabandha and Dhusra which are situated within 7km radius of the school and nearly 150km from the state's capital Ranchi.
"Usually my students act as my informers. They inform me about needy persons in villages and then I go along with students and meet the gram pradhan (village head) during school hours and after arranging clothes (used and new) during weekdays I usually distribute it at the targeted villages on Sundays. I ensure that my social activity does not affect my professional assignments," said Harprit.
Significantly, Patamda and Bodam were once under Maoist dominated areas situated close to the Barrabazar, Bandwan areas of Purulia district of Bengal.
The school hour during Covid times are between 8 am and 12 noon (though school teachers have to stay in school till 2 pm).
She draws energy from the happiness seen on the faces of the poor villagers and draws inspiration from her father a retired railwayman.
"Usually, the poor villagers ask me if I am selling the clothes for some amount and get pleasantly surprised when I inform that I am distributing it for free. The happiness on their faces gives me energy to continue with this endeavour of arranging clothes, collecting them from friends and driving (a car) all the way to villages on inaccessible terrains. I get motivated from my father who was a retired railway locomotive pilot and used to do similar work during his off-days," said Harprit.
She is already preparing her children to carry the mantle.
"I ask my daughter (an eighth-grader) and son (doing graduation in commerce) if they are willing to accompany me. Fortunately, they have always been with me during the clothes distribution work. I hope that they would continue similar work wherever they are settled in life," added Harprit.
The clothes are given by friends, well-wishers and relatives.
"Initially, I used to purchase new ones and also distribute used clothes in good conditions. But gradually my colleagues in schools, friends and relatives knowing my endeavour supported me with clothes (usually used clothes) and blankets," said Harprit.